June 20th, 2016
Last week Spencer Research Library hosted a workshop on the care and identification of photographs, taught by photograph conservator Gawain Weaver. I was fortunate to attend the four-day workshop along with three other fellow Spencer staff members from Conservation, Public Services, and Processing, as well as archivists and conservators from Missouri, Texas, and elsewhere in Kansas.
Our group met in Spencer's Johnson Room and jumped right into things on day one by preparing paper to make our own salt prints. We coated paper first in a sodium chloride solution and, once dry, in a silver nitrate solution, then we placed leaves on the coated paper and exposed them in the sunlight over our lunch break. This simple exercise was a fun and engaging way to demonstrate the fundamentals of photographic chemistry.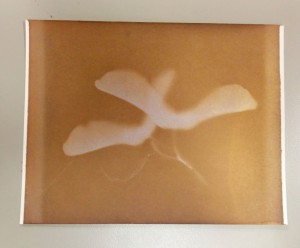 The salt print I made in the workshop…it isn't pretty, but the exercise was very useful!
Over the four days, we divided our time between Gawain's incredibly information-packed lectures on the history of photographic and photomechanical processes, and lively hands-on sessions examining examples of many of the processes we'd learned about. The workshop fee included a small 60x-100x handheld microscope and a binder filled with the lecture slides, reference guides for identifying various processes, articles and recommended reading lists, and lots more useful information. Participants also had the option to purchase a sample set of photographic and photomechanical prints – a great addition to an archivist's or conservator's reference library.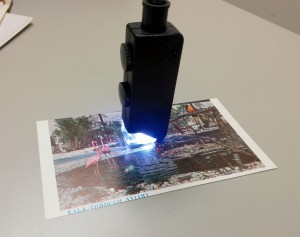 This microscope is small, inexpensive, and very handy for identifying photographic & printmaking processes.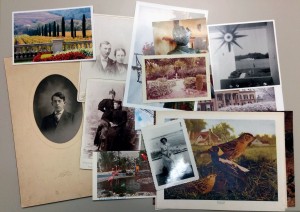 Photograph sample set of eighteen different photographic and photomechanical prints.
In addition to covering photographic history and technique, Gawain also discussed digital prints and issues of photograph deterioration, storage conditions, and proper housings. I enjoyed this workshop a great deal, and I came away with a clearer understanding of how photographs are made as well as greater confidence in my ability to identify photographic processes and to better address the particular preservation needs of photographs in the collections I work on. Many of the guides and resources in the workshop packet are available for purchase or to download for free from Gawain's website, along with links to many more resources and information about this and other workshops that Gawain offers.
Angela Andres
Special Collections Conservator
Conservation Services