November 17th, 2014
Tensions are high this week as two of college basketball's winningest and most storied teams, the University of Kansas Jayhawks and the University of Kentucky Wildcats, face off tomorrow in Indianapolis. During March Madness these schools are rivals, but younger generations may not realize that they share a history through the sixth winningest Division I coach of all time, the "Baron of the Bluegrass" Adolph Rupp.
Lexington, Kentucky, my hometown and home of the UK Wildcats, boasts Rupp Arena, named after legendary coach Adolph Rupp. It is the largest indoor arena ever built expressly for basketball, as well as the largest indoor sports arena in the country and sixth largest in the world. Its sheer size pays homage to Rupp's tremendous and immutable impact on UK and college basketball, but he would not have reached this level of success without his beginnings at KU.
Adolph Rupp was born in Halstead, Kansas, in 1901. By the time he attended Halstead High School, James Naismith had moved to Kansas and introduced his newly invented game of basketball to the area. Rupp attended KU and, under direction from Naismith and head coach Forrest C. "Phog" Allen, played as a reserve from 1919 to 1923, including the 1922-1923 team that went undefeated in conference play and was voted national champions.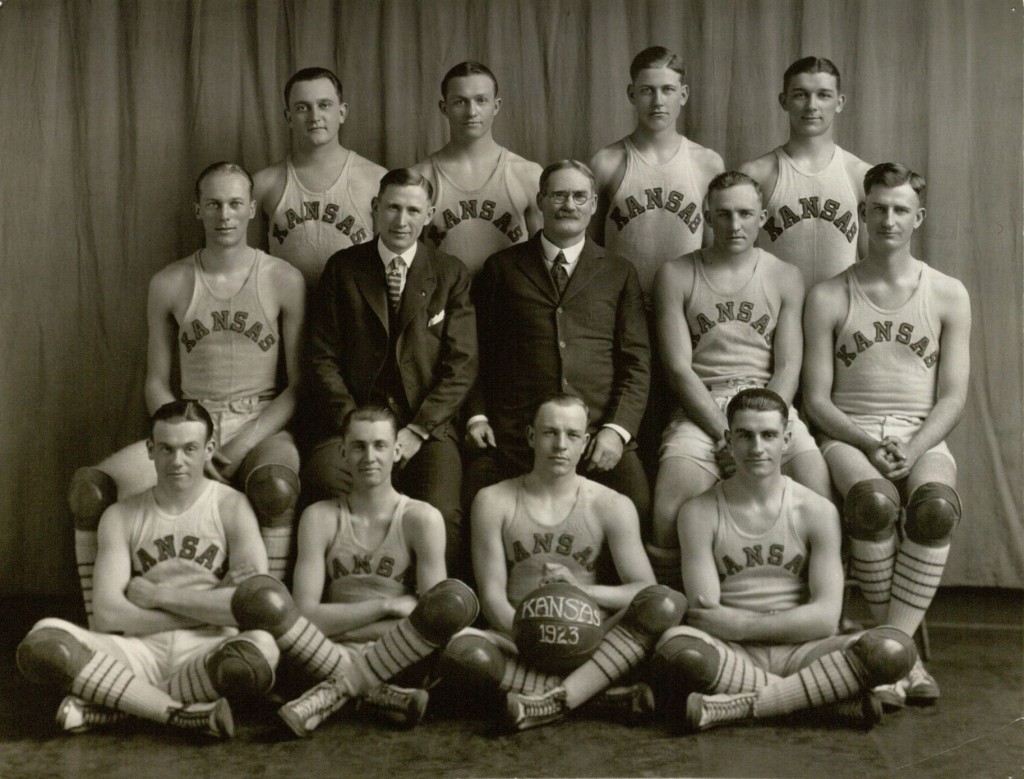 KU national champions basketball team, 1922-1923. Top left: Adolph Rupp.
Middle row, second and third from left: Phog Allen and James Naismith.
Call number: RG 66/13 1922-1923 Team Prints: Athletic Department: Basketball (Photos).
Click image to enlarge.
After college, Rupp spent several years coaching at high schools in Kansas, Iowa, and Illinois before taking a coaching job at UK in 1930. He remained head coach at Kentucky until being forced into retirement at age seventy due to university policy. Throughout his time at UK, his teams faced the Jayhawks many times, but Rupp remained cordial with his former coach and alma mater.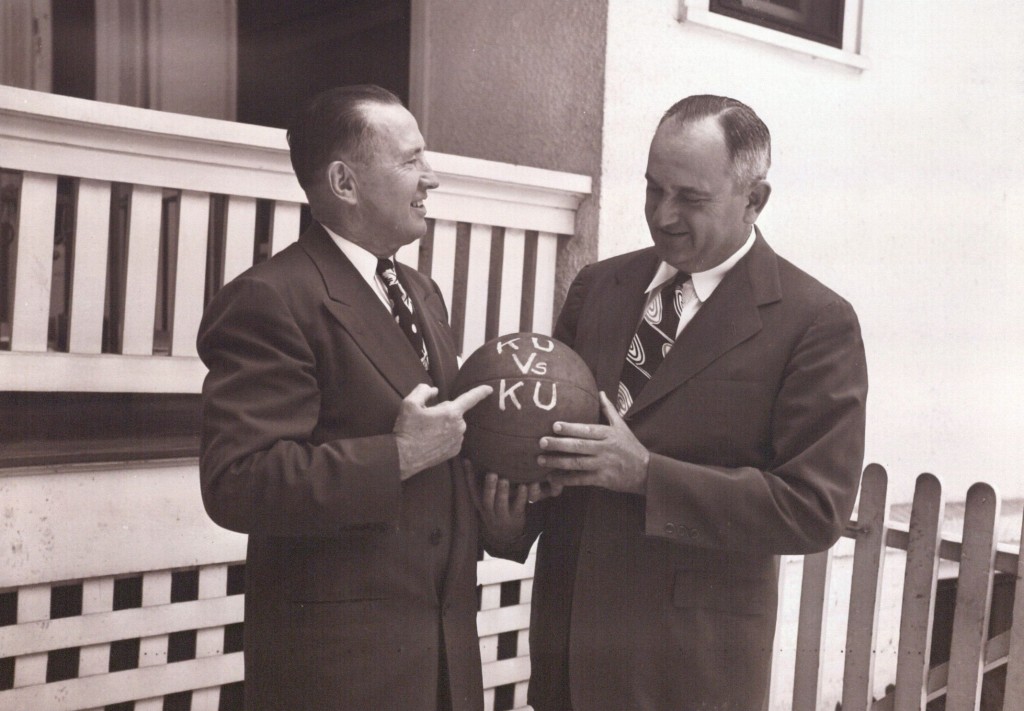 Phog Allen (left) and Adolph Rupp (right), undated. Call number: 66/13 Rupp, Adolph (Photos).
Click image to enlarge.
Rupp died from cancer on December 10, 1977 in Lexington, Kentucky. Ironically, his former Wildcats played the Jayhawks that night in Allen Fieldhouse and reigned victorious. Rupp is most often associated with UK and commemorated by Kentuckians, but UK would not be on top of the basketball world without Rupp's outstanding leadership fostered by his Kansas upbringing. His legacy is not lost on Kansans either; his high school hosts the Annual Halstead Adolph Rupp Basketball Tournament, now approaching its 45th year. Rupp's family remained in the Lawrence area after he moved away and have provided insight into Rupp's early life and basketball career. For more information about his home life in Halstead, see the article "His Hometown" in the Rupp section of the Courier-Journal, Monday, December 12, 1977 (call number: PP 221).
So in celebration of this week's showdown, come to Spencer Research Library to read more about Adolph Rupp's Kansas origins and subsequent time at rival UK (both the glory and controversies) in our collection of his personal papers (PP 221).
Megan Sims
Public Services and Processing Student Assistant
KU Museum Studies Graduate Student