Meet the KSRL Staff: Phil Cunningham
This is the latest installment in a recurring series of posts introducing readers to the staff of Kenneth Spencer Research Library. Today's profile features Phil Cunningham, who joined Spencer Research Library in February 2023 as Assistant Librarian and Kansas Collection Curator.
Where are you from?
I was born in Tacoma, Washington, and as a child have lived in Los Angeles; Fort Polk, Louisiana; and Fort Riley and Manhattan, Kansas. Before coming to Lawrence and KU, I lived in New Orleans.
What does your job at Spencer entail?
I recently joined the Kenneth Spencer Research Library as the Kansas Collection Curator. The Kansas Collection documents the history and culture of Kansas and its peoples; it is one of the largest regional history collections in the Great Plains. In my role as curator, I lead collection development, instruction, and outreach efforts for that collection. That means I work to support preservation and access to the collections held at the Spencer, team up with instructors to connect students to the multitude of resources available here, and work with donors to help the Kansas Collection grow.
How did you come to work in libraries/archives/special collections?
While working towards my B.A. in history, I began to learn more about the unique history of Kansas and how it came to be what it is today. After graduating, I was eager to continue my studies in history but hesitant to jump into graduate school. I came to see academic librarianship as a desirable route to stay in academia, so I pursued my masters in library and information sciences (MLIS) at Pratt Institute in New York. I was fortunate to intern at the Schomburg Center, a research library part of the New York Public Library system, and the Gilder-Lehrman Archive at the New-York Historical Society. Those experiences helped shape my interests in special collections libraries and archival work.
What is one of the most interesting items you've come across in Spencer's collections?
I am still quite new to the Spencer Library, however, I have already started to come across fun and interesting collections in the Kansas Collection! One fun collection is the Agnes T. Frog collection, which documents efforts in Lawrence in 1986 to symbolically elect an amphibian as Douglas County Commissioner. The campaign was a protest against the then-proposed southern Lawrence bypass and its environmental effects on the Baker Wetlands to the south of the city. Another fun item I have come across is a high school diploma awarded to a pony named in Pansy in 1931. Pansy was the primary means of transport to school for a family in Brown County, Kansas. After "attending" school for 22 years, she graduated in 1931 and was given her own diploma!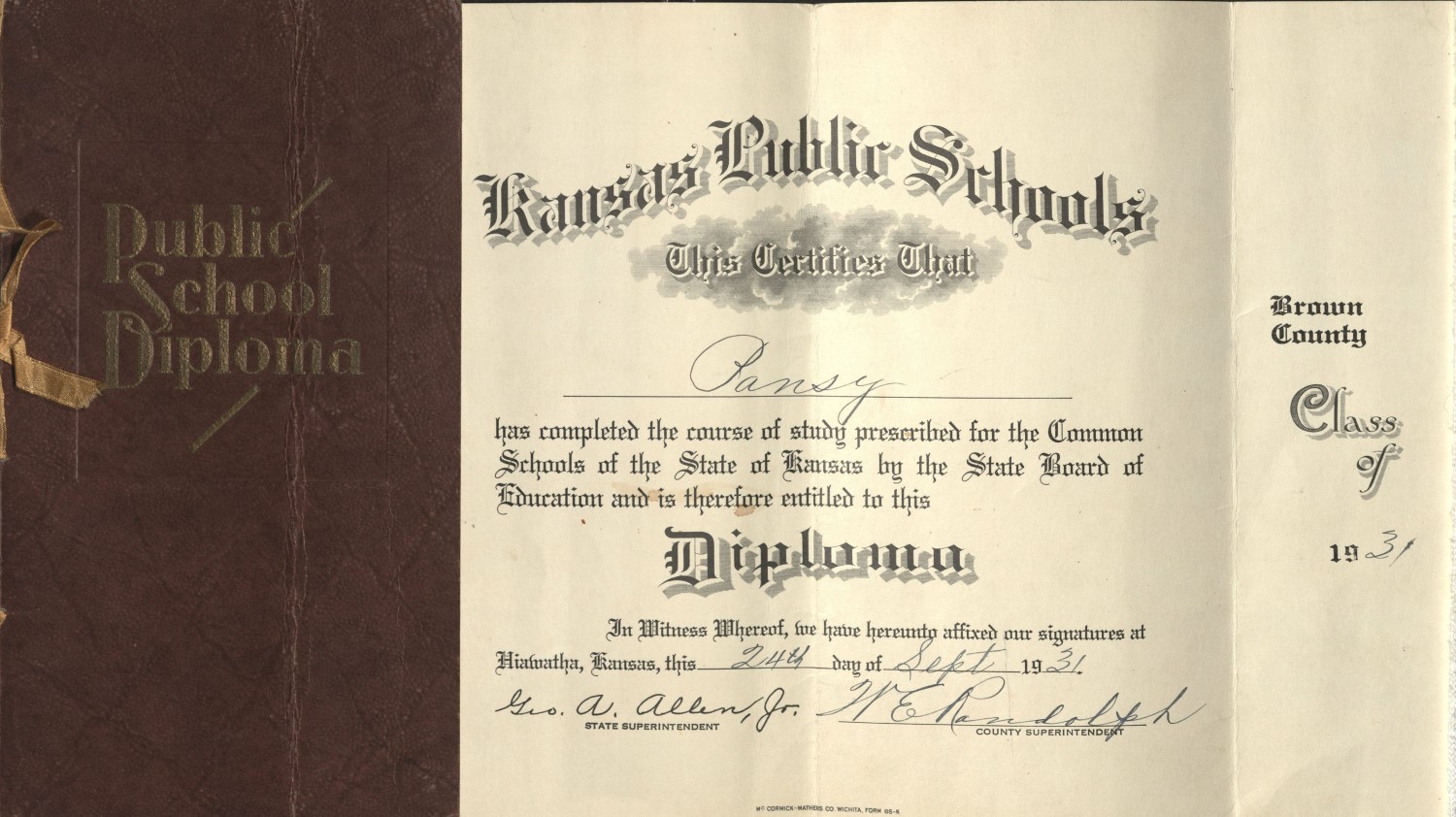 What part of your job do you like best?
As I settle into my new role at the Spencer Library, the list of things I enjoy about my job continues to grow. In no particular order, some of the things I enjoy about working here are: having an office with a window, the welcome that I received from my colleagues and in general how friendly everyone is, exploring the collections at the Spencer, and the joy of learning something new every day. I am also excited to work with classes and students to introduce them to archival research and the archives profession.
What are some of your favorite pastimes outside of work?
Outside of being a curator, you're likely to find me on cycling around town or at a concert. Some of the bands I have seen are Kansas (of course!), Lamb of God, 3OH!3, Metallica, George Clinton & The P-Funk Allstars, Mastodon, Tool, Tech N9ne, and Gogol Bordello to name a few… don't ever trust me with the aux cord!
What piece of advice would you offer a researcher walking into Spencer Research Library for the first time?
I think research libraries and archival research can be daunting for the uninitiated as it requires prior preparation before one even steps foot into the library. But in fact, the opposite is true. If anyone wants to drop in, they are more than welcome to do so. The permanent displays in the library's North Gallery are fun and interactive, and they give an idea of the variety of collections here. The rotating exhibitions mean there's always something new to see and learn about with each visit.
Phil Cunningham
Kansas Collection Curator
Tags: About Us, Behind the Scenes, Careers in Libraries, Kansas Collection, Meet the Staff, Phil Cunningham