Lastest Finding Aids and Additions to Finding Aids
Trying to decide what you would like to do over the winter holidays?  Why not get a head start on your research?  Here is a list of the newest finding aids and additions to finding aids available at the Kenneth Spencer Research Library.  Please scroll down for images from three of these collections.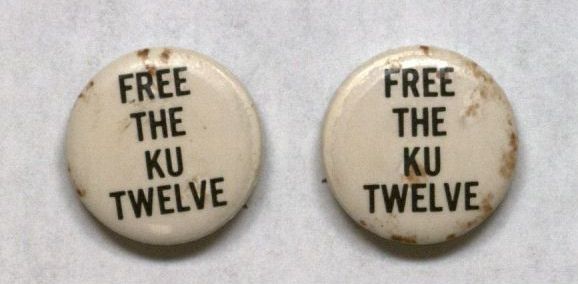 Top: "Free the KU Twelve" buttons. Gail J. Hamilton Collection. Call Number: PP 497: Box 1, Folder 26; Left: Letter from Jennie Johnson to Will Johnson, January 26, 1886. Jennie Johnson Collection. Call Number: RH MS P909: Folder 1; Right: Letter from Ernest Boyd to Kenneth Reddin, October, 14, 1936. Kenneth Reddin Collection. Call Number: MS 14: Box 3, Item C1. Click images to enlarge.
Tags: Anna C. Sullivan, archives, Arkansas River Coalition, Benjamin, Charles W. Goff, collections, Denise Levertov, Dorr C. Griffin, Dortothy Barto Devin, E. Raymond Hall, EAD, Ebenezer Hazard, Edwyna Gilbert, Elmer C. Jackson, finding aids, Gail J. Hamilton, Geoffrey Elborn, Gordon Sauer, Harold Acton, Henry Shenk, Ian Hamilton Finlay, James Purdy, Jennie Johnson, Jerome Pitney, Kaw Valley Quilters Guild, Kenneth Reddin, KU Twelve, Lawrence Association for Innovative Education, Lewis Lindsay Dyche, manuscripts, papers, Richard Rhodes, Robert Creeley, Robert Haydon, William Inge