Happy Birthday, Charles Darwin!
Tomorrow, February 12, marks Charles Darwin's 206th birthday. To mark this anniversary, we're sharing a letter that Darwin wrote to James E. Todd in April 1882. At the time, Todd was a professor of natural science at Tabor College, a Christian college in Tabor, Iowa, that operated from 1853 to 1927. He went on to teach geology at KU from 1907 until his death in 1922.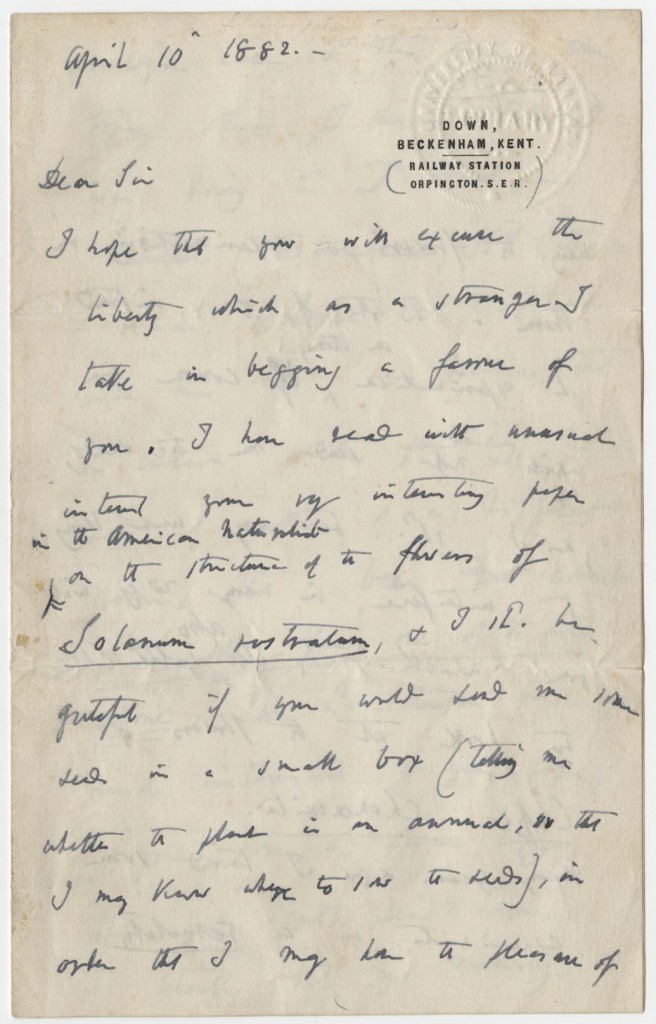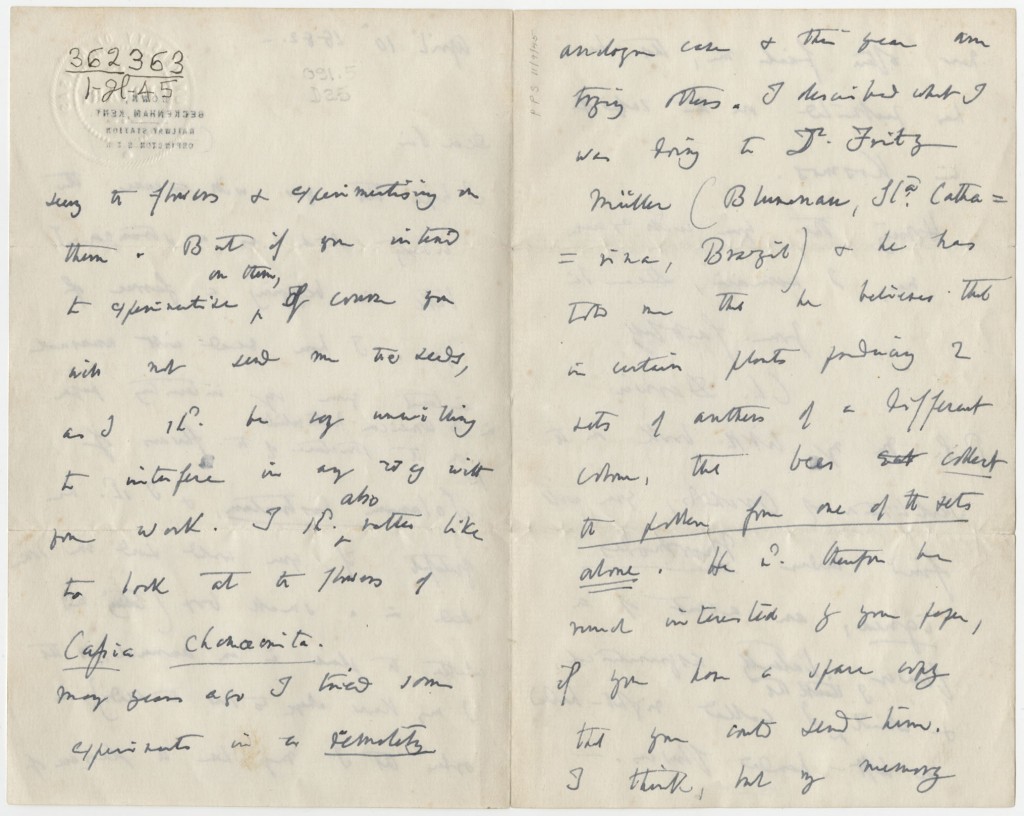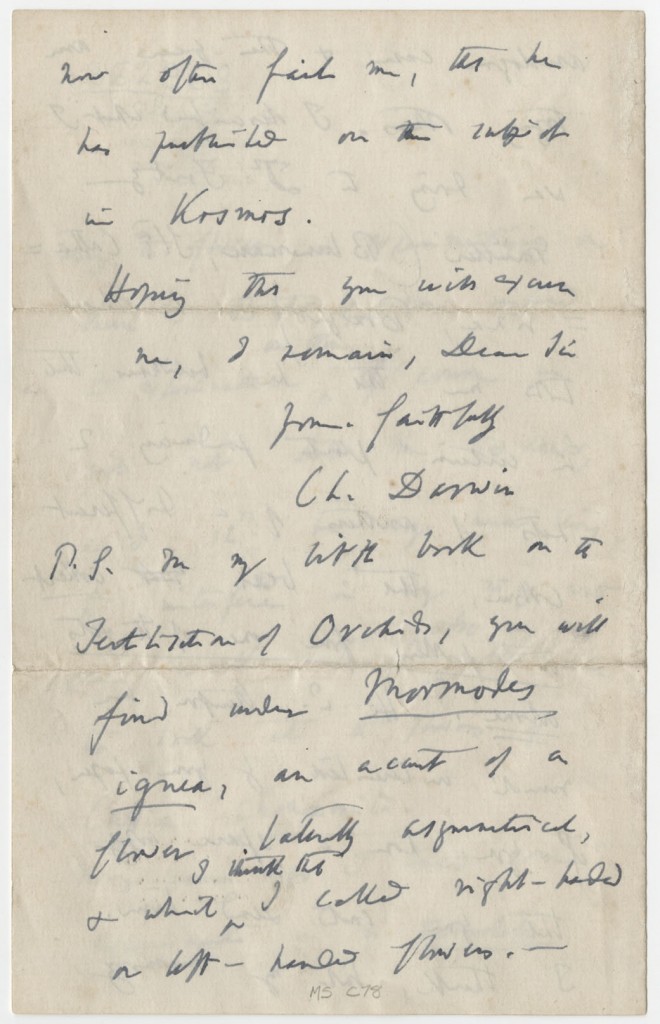 Letter, Charles Darwin to James E. Todd, 1882.
Call Number: MS C78. Click images to enlarge.
An article about this letter in Transactions of the Kansas Academy of Science (Vol. 48, No. 3, December 1945) describes the circumstances in which it was written, although the author's speculation that the document was "Darwin's last letter" appears to be erroneous.
In April 1882, James E. Todd…published in the American Naturalist (volume 16, pages 281-287) a paper, "On the Flowers of Solanum Rostratum and Cassia Chamaecrista." The paper soon came to the attention of Charles Darwin, then in his seventy-fourth year. Almost immediately Darwin wrote the letter to Professor Todd [shown here]…
The most extraordinary feature of the letter is its date, written nine days before Darwin's death on April 19, 1882. Darwin had been in poor health for some time and beginning in December 1881 underwent a series of heart attacks. He rallied from these attacks and, as the letter indicates, by April was still mentally active and planning work for the future. Five days after writing the letter his final illness began…
Dr. Fritz Müller, referred to by Darwin in the letter [above], carried on an extensive correspondence with Darwin for many years, although the two naturalists never met (317).
Charles Darwin spent decades gathering evidence for evolution before publishing his groundbreaking book, On the Origin of the Species by Means of Natural Selection, in 1859. As demonstrated by his letter to Professor Todd, he remained active in scientific research until the end of his life.
Want to learn more about Charles Darwin? Spencer Research Library holds copies of many of his published writings, including a first edition copy of On the Origin of Species. You can find these sources by searching the KU Libraries online catalog. Spencer's collections also contain two additional letters from Darwin; transcriptions of both documents are available online (letter to Emma Gärtner and Charles Lyell). As always, however, anyone interested in seeing these materials in their original physical form are welcome to do so at Spencer!
Digital copies of many sources by and about Darwin are also available; see the Darwin Correspondence Project and Darwin Online.
A transcription of Darwin's letter to Professor Todd, also from the Transactions of the Kansas Academy of Science article quoted above, follows.
April 10 1882.
Down,
Beckenham, Kent.
Railway Station
Orpington. S. E. R.
Dear Sir
I hope that you will excuse the liberty which as a stranger I take in begging a favor of you. I have read with unusual interest your very interesting paper in the American Naturalist on the structure of the flowers of Solanum rostratum, & I shd. [should] be grateful if you would send me some seed in a small box (telling me whether to plant in as annual, so that I may know when to sow the seeds), in order that I may have the pleasure of seeing the flowers & experimenting on them. But if you intend to experiment on them, of course you will not send me the seeds, as I shd. be very unwilling to interfere in any way with your work. I shd. also rather like to look at the flowers of Cassia chamaecrista.
Many years ago I tried some experiments in a remotely analogous case & this year am trying others. I described what I was doing to Dr. Fritz Müller (Blumenau, St. Catharina, Brazil) & he has told me that he believes that in certain plants producing 2 sets of anthers of a different colour, the bees collect the pollen from one of the sets alone. He wd. [would] therefore be much interested in your paper, if you have a spare copy that you could send him. I think, but my memory now often fails me, that he has published on the subject in Kosmos.
Hoping that you will excuse me, I remain, Dear Sir
Yours faithfully
Ch. Darwin
P. S. In my little book on the Fertilization of Orchids, you will find under Mormodes ignea, an account of a flower laterally asymmetrical, & what I think that I called right-handed or left-handed flowers.
Caitlin Donnelly
Head of Public Services
Tags: Caitlin Donnelly, Charles Darwin, correspondence, history of science, James E. Todd, natural history