Happy Birthday, Aeon!
Late August marks the one year anniversary of the launch of Aeon at the Kenneth Spencer Research Library. Aeon is an online researcher account system that replaces the library's old paper registration cards and call slips. All researchers who want to view materials in Spencer's reading room should create an Aeon researcher account and use it to submit item requests.
Getting started is easier than ever. The library now has two new video tutorials that will help you navigate creating your Aeon account and submitting paging requests.
Video Tutorial on Creating Your Aeon Account:

Video Tutorial on Requesting Items through Aeon:

You may also access these tutorials through the "Library Use and Policies" section of the Kenneth Spencer Research Library website at http://spencer.lib.ku.edu/using-the-library/library-use-and-policies (click on the tab for "Creating an Account and Registering through Aeon").
Aeon offers several advantages to you as a researcher:
Aeon enables you to have a lasting record of all items you view in our reading room (click on the "All requests" link on the main page of your Aeon Account). This is particularly handy when you want to look at a book or manuscript collection that you've examined in the past, but whose precise title or call number you can no longer remember. Gone are the days of "I remember that it was a big blue book with gold ornaments…" Now you can simply login to your account and review what you requested the last time you were here.
Aeon allows you to submit paging requests from the comfort of your own home. In fact, you can even "auto-populate" requests through KU's online catalog. Simply click on the "Get at Spencer Link" next to the location field in the online catalog record (see image below), and you will be prompted to login to your Aeon account. Once you do, Aeon will automatically transfer information, such as the title and call number, from the catalog record to an item request. All you have to do then is scroll down and click "submit." Once you arrive on site in our Reading Room and show a photo ID, we will page your request.
Your Aeon account is not tied to your KU online ID, which means that researchers not affiliated with KU can create accounts and that KU faculty and students are able to retain their accounts (and continue to access them!) after they leave KU.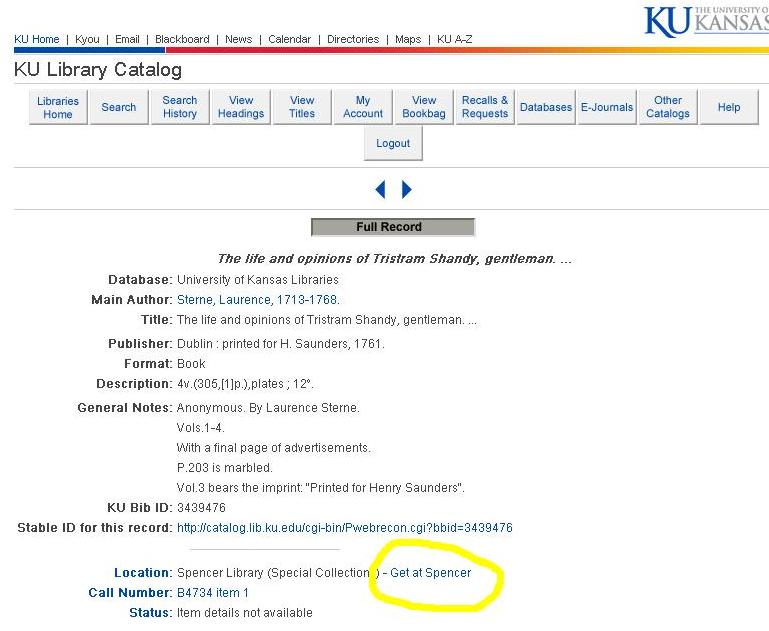 Above: Online catalog record with the "Get at Spencer" link circled in yellow
The system is a great example of how new technology can help facilitate the delightfully hands-on work of conducting research with archives, rare books, and manuscripts. Happy first anniversary, Aeon!
Elspeth Healey
Special Collections Librarian
Tags: Aeon, Atlas Systems, Collection Management Systems, Elspeth Healey, Public Services, Video Tutorials