Criminal Cases in Medieval Bologna
Jacobus de Burgo Sancti Sepulcri (fl. 1380) was a notary and magistrate's forensic official for misdeeds in Bologna. This is his official record of the charges and pleas he handled in twenty cases involving Bolognese citizens. The cases are mostly minor assaults and theft, although there is one long case of sorcery, seduction, quackery, and con-games.
In one example, German-speaking Ubertus, son of the late Henricus de Norfa, came to the house of Gimignanus Ramainus and stole a woman's tunic, colored green and worth 10 pounds. Talianarius the notary translated the charge into German for him. He confessed everything.
Liber excusationum in causis criminalibus, Bologna, 31 October 1380 to 24 January 1381. Left: Front cover. Right: First page. Call number MS E77. Click images to enlarge.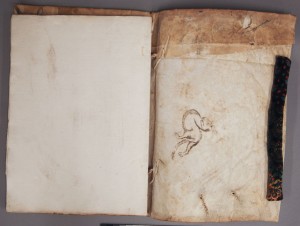 Doodle on inside of back cover. Call number MS E77. Click images to enlarge.
Adapted from Civil, Canon, and Common: Aspects of Legal History. An Exhibition of Books and Manuscripts in the Kenneth Spencer Research Library, University of Kansas, 1996.
Alexandra Mason: Catalogue and exhibition; James Helyar: Design

Tags: Alexandra Mason, Bologna, Jacobus de Burgo Sancti Sepulcri, James Helyar, law, Legal history