Collection Snapshot: Notes from Underground …
If you're interested in matters Polish and Russian or in travels in Slavic lands and in sights seen through western eyes AND if you can read this page from the manuscript diary of an Englishwoman traveling in the summer of 1828 (186 years ago!), then YOU may be the person to transcribe the contents of this little volume. You will get to know "Roberta" and "Mr. Sayer" (their real names), who were her companions on the trip. We can picture Ms. English Lady settling into the pension at night to write … Inside the front cover she begins, "The weight of the statue of Peter The Great …" You've seen the blurb; now read the book!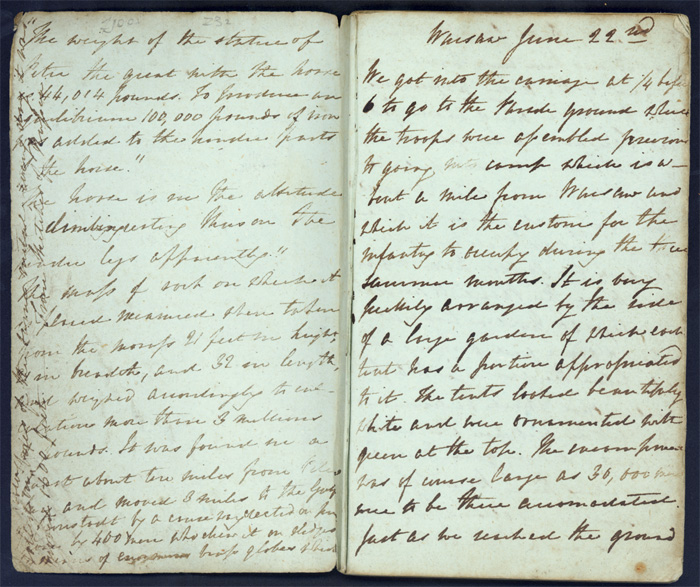 An English Lady: An anonymous manuscript travel-diary, a detailed account of the sights, costumes, social services, village and town life, war aftermath, travel mishaps in Russia and Poland. Warsaw-Smolensk-Moscow-Novgorod-St. Petersburg. 22 June to 21 July 1828. Call Number: MS B144. Click image to enlarge.
Sally Haines
Rare Books Cataloger
Adapted from her Spencer Research Library exhibit, Frosted Windows: 300 Years of St. Petersburg Through Western Eyes.
Tags: 19th Century, Frosted Windows, manuscripts, Poland, Russia, Sally Haines, travel diaries, Warsaw