Bloomsday 2012
Happy Bloomsday! As fans of James Joyce's experimental novel will know, Ulysses is set on June 16, 1904. Accordingly, the 16th of June has become an annual occasion for readers around the globe to celebrate Joyce and commemorate (often with marathon public readings) Leopold Bloom's fictional wanderings through Dublin.
In honor of Bloomsday 2012, we've posted a few Ulysses-related "firsts" from the Library's James F. Spoerri Collection of James Joyce (one of our three major Irish Collections). It consists of over 900 volumes by and about Joyce, including first editions of all of the writer's works with the exception of five minor items.
First Printing of an Episode from Ulysses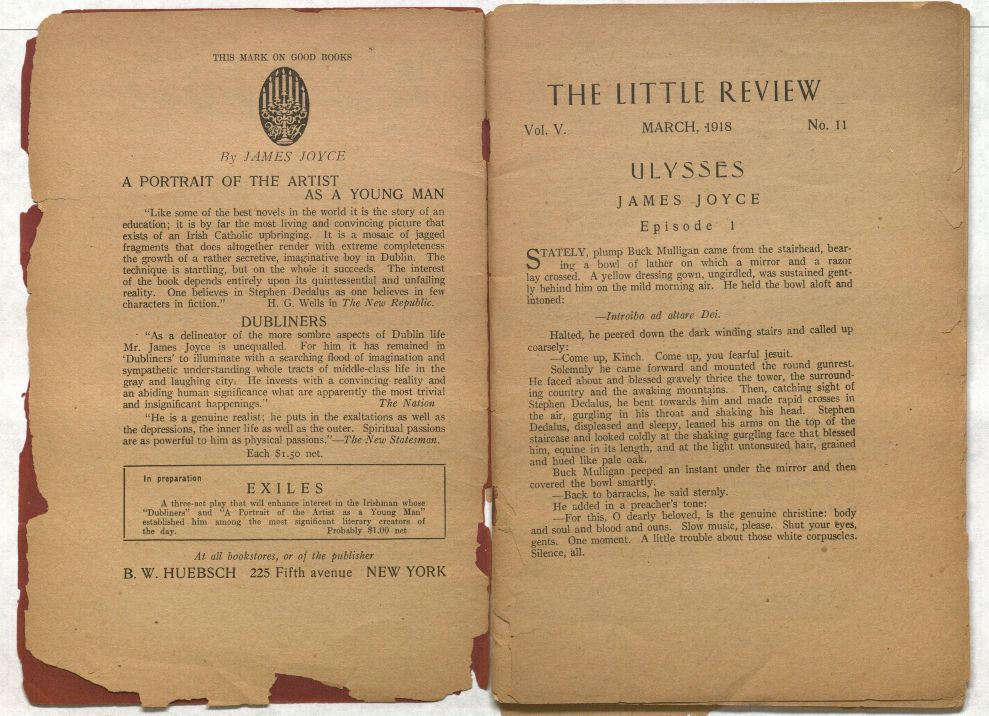 The Little Review. Vol. IV (misprinted as Vol. V), no. 11 (March 1918).
Call number: Joyce Y166. (Click on image to enlarge.)
Episodes from Ulysses first appeared serially in The Little Review, an American "little magazine" then based in New York. Twenty-three installments–covering 13 episodes as well as the beginning of episode 14–came out between March 1918 and December 1920. Though experimental literary circles fêted the work, the New York Society for the Suppression of Vice was less impressed. It brought the serialization to a halt by initiating obscenity charges over the events depicted in the "Nausicaa" episode.  The case went to trial, and The Little Review lost. As a result, Ulysses was banned in the United States for over a decade. Several episodes of the novel were also serialized in England by The Egoist between 1918 and 1919. However, the magazine's printers refused to set a number of the episodes since British obscenity laws held both the publisher and the printer liable.
First Edition of Ulysses (1922)
Cover and limitation page from the first edition of Ulysses by James Joyce.
Paris: Shakespeare and Company, 1922.  Call number: Joyce Y115. (Click on images to enlarge.)
The Spencer Library holds over 75 copies of Ulysses, including four copies of the first edition, which was published by Sylvia Beach's Shakespeare and Company in 1922. This first edition was limited to 1000 copies, which were numbered and divided among three different paper formats (each represented in the Library's collections). Pictured above are the cover and limitation page from the rarest of the three issues (one of only 100 copies printed on Dutch handmade paper and signed by Joyce). Our copy is number 88  (call number: Joyce Y115).
First French Translation of Ulysses (1929)
Cover and inscribed half-title page of Ulysse, by James Joyce, French translation by M. Auguste Morel
and Stuart Gilbert. Paris: La Maison des Amis des Livres, 1929.  Call number: Joyce Y141. (Click on images to enlarge.)
The Library also holds translations of Ulysses into a variety of languages, including, Irish, Hungarian, Dutch, Japanese, Swedish, and Czech (to name a few). The first French translation of Ulysses, titled Ulysse, was undertaken by M. Auguste Morel with assistance by Stuart Gilbert and published in 1929 by Adrienne Monnier, Sylvia Beach's companion and the owner of the French language bookstore, La Maison des Amis des Livres. Our copy is signed by Stuart Gilbert and inscribed in Italian by Joyce ("Babbo," Dad) to his daughter Lucia. It also bears Joyce's curious "Ex Libris Joyce Post Mortem" bookplate.
First (authorized) American Edition of Ulysses (1934)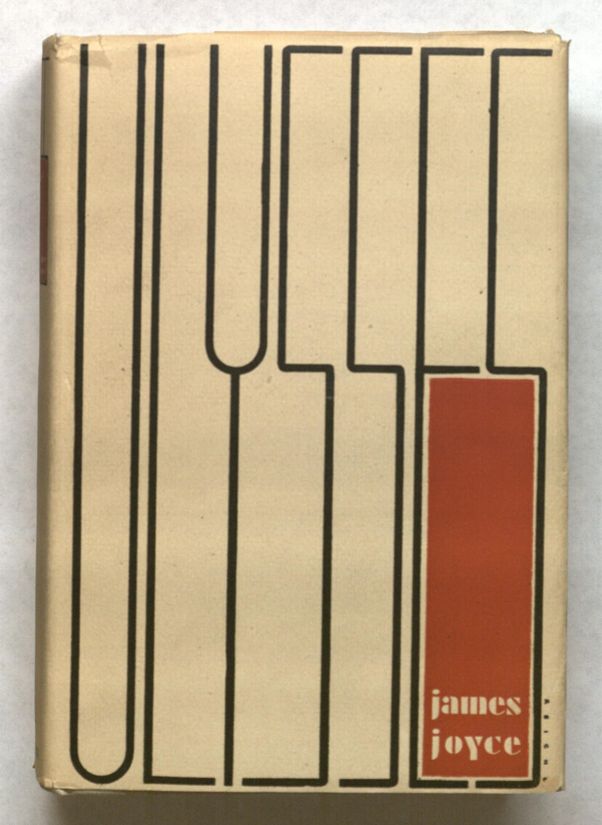 Ulysses by James Joyce.  New York: Random House, 1934.
Call Number: Joyce Y129. (Click on image to enlarge.)
The first authorized American edition of Ulysses was published by Random House in 1934, following successful litigation to lift the ban on Ulysses in the United States. Interestingly, this was not the first book version of Ulysses to be printed on American soil. An illegal and unauthorized edition had been brought out in New York in 1929 by Samuel Roth, though Roth sneakily (and wisely) disguised its American origin by mimicking Shakespeare and Company's ninth printing (1927).
If you haven't had your fill of Ulysses and James Joyce yet, then consider joining in the Bloomsday festivities at the Kansas City Irish Center on Saturday, June 16th.
Elspeth Healey
Special Collections Librarian
Леон казинорабочее зеркало
Tags: 20th-century literature, Bloomsday, Elspeth Healey, first editions, Irish Collections, James Joyce, modernism, publishing history, Shakespeare and Company, The LIttle Review, Ulysses