An Easter Pizza in Umbria, Italy in 1842
Easter Sunday …  after dinner they brought us an enormous sort of cake to look at – it is made of flour, lard, cheese, & quantities of eggs – the name is Pizza – or Torta – one of these we saw must have been 4 feet in circumference – it is made at Easter – only in this part of the country not in Rome – it is rather good – very light – but too strong of the cheese – they eat this cake – sausages – eggs which have been blessed (so has the cake) and wash it down with the best wine which is stored up for the occasion – such is their Easter feast. …
Entered by Pauline Trevelyan in her diary,  Spoleto, Italy, 27 March 1842 , call number: MS C133
Traditional pizza recipes vary greatly in different regions of Italy. In her journal entry for Easter Sunday 1842 Pauline Trevelyan describes her first taste of Umbrian Easter pizza, a tall round loaf of cheese-flavored bread traditionally served with sliced Italian sausage and hard-boiled eggs. The photograph featured below shows the tasty recreation of that meal submitted to the recent University of Kansas Libraries edible book competition.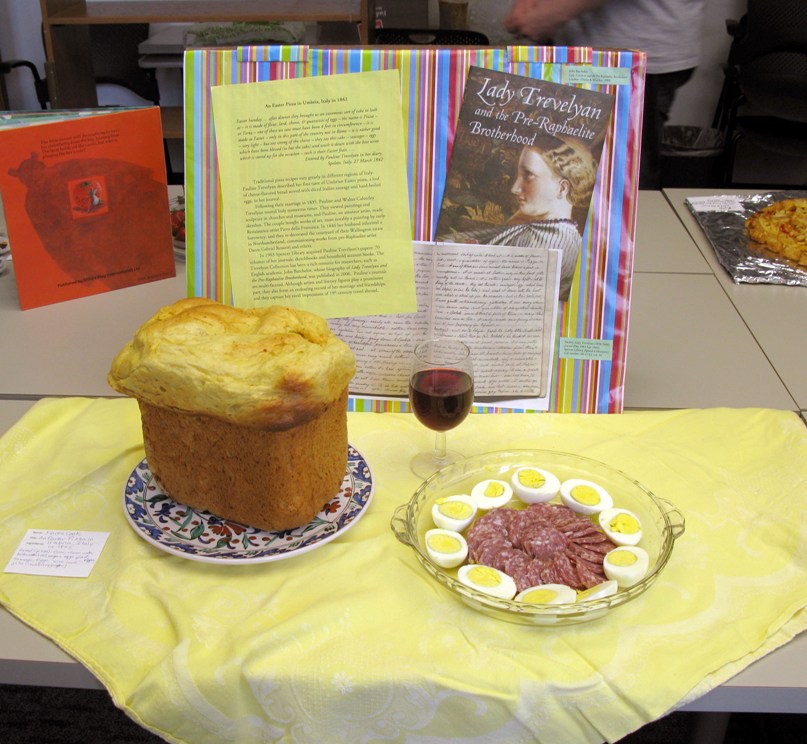 Following their marriage in 1835, the English couple Pauline and Walter Calverley Trevelyan toured Italy numerous times. They viewed paintings and sculpture in churches and museums, and Pauline, an amateur artist, made sketches. The couple bought works of art, most notably a painting by early Renaissance artist Piero della Francesca. In 1846 her husband inherited a baronetcy, and they re-decorated the courtyard of their Wallington estate in Northumberland, commissioning works from pre-Raphaelite artist Dante Gabriel Rossetti and others.
In 1963 Spencer Library acquired Pauline Trevelyan's papers: 70 volumes of her journals, sketchbooks and household account books. The Trevelyan Collection has been a rich resource for researchers, such as English academic John Batchelor, whose biography Lady Trevelyan and the Pre-Raphaelite Brotherhood, was published in 2006. Pauline's journals are multi-faceted. Although artists and literary figures play a prominent part, they also form an endearing record of her marriage and friendships, and they capture her vivid impressions of 19th-century travel abroad.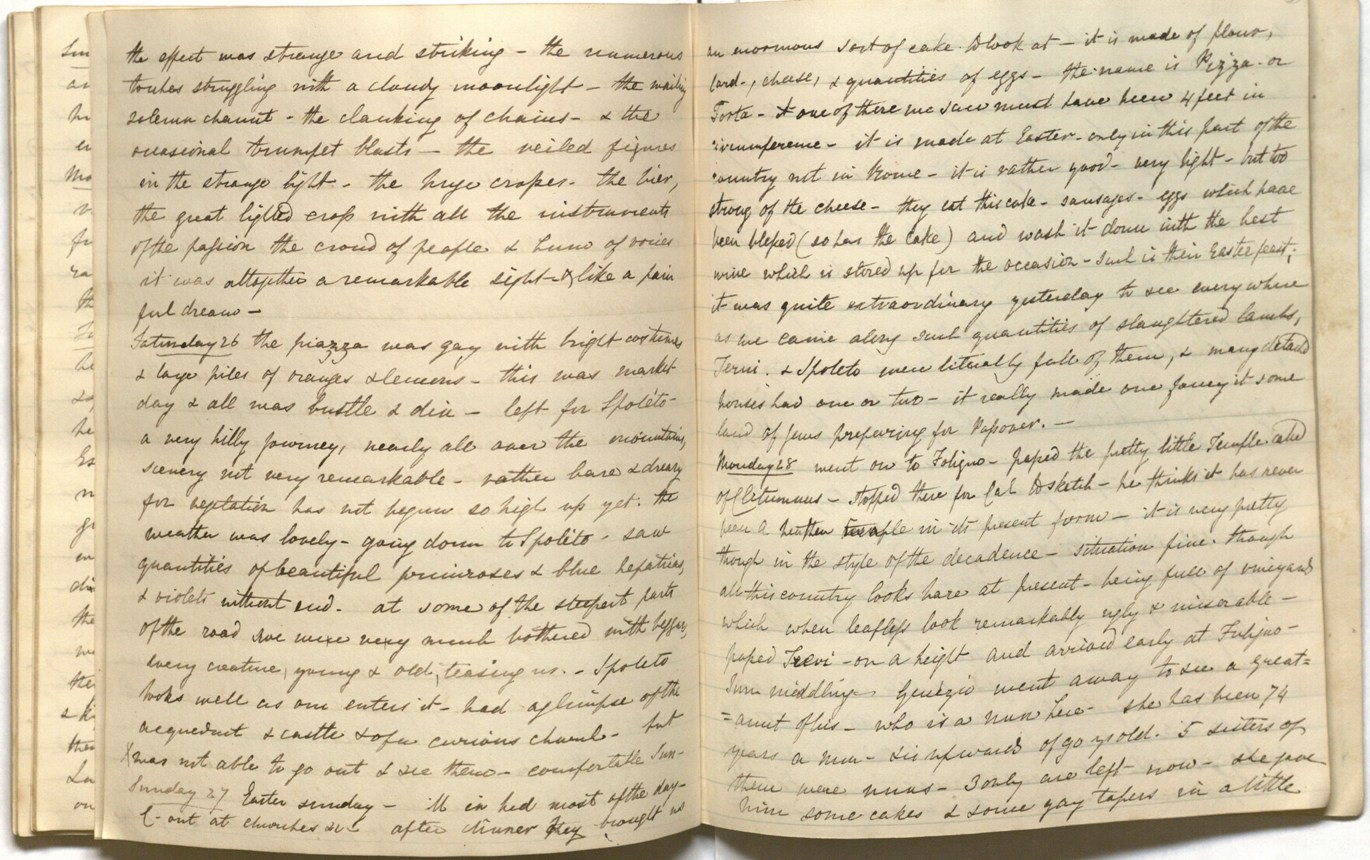 Diary of Pauline Trevelyan, open to entry for "Easter Sunday" 1842. Call Number: MS C133  (Click image to enlarge)
Karen Cook
Special Collections Librarian
Tags: 19th Century, Italy, Karen S. Cook, Lady Pauline Trevelyan, pizza, travel diary, Walter Calverley Trevelyan