2021 Virtual Summer Internship: Archival Collection of Fisk University During the Covid Era
Paul Springer, Jr., served as KU Libraries' second HBCU Library Alliance Preservation Intern in the summer of 2021. He spent six weeks taking classes online with his cohort, who were each assigned to U.S. research libraries with conservation departments. He also worked with staff at Spencer Library to craft his own archival project. In this post, he describes his experiences.

My name is Paul Springer, a senior history and psychology major at Fisk University. My career aspirations involve me working with students and diversifying the academy. As an aspiring historian, I hope combine interdisciplinary studies to further African Diaspora studies. With interests in popular culture, U.S civil rights history, Nigeria, and a special focus on film, I hope to make connections between Nigerian popular culture and U.S social and civil rights movement in the 20th century. I also wish to get involved with archival work dealing with popular culture materials. I believe that my particular skills could be useful in museums and libraries. Born and raised in Memphis, Tennessee, I hope to make impact in my community through historical research. As the home of the National Civil Rights Museum, my hometown has a prominent presence in African American research and heritage. Creating opportunities, engaging in community, and influencing the next generation are the most crucial components to any career path I choose.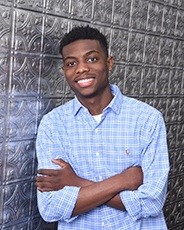 Working with the Spencer Research Library at the University of Kansas, my project looks to collect documents, flyers, programs during the academic semesters that Covid-19 interrupted. So far, I have the written speeches of the Student Government Association president, a program for the Honors convocation, and photos from social media. Due to limited time during the internship, this project continues. My goal is to donate this collection to the Fisk University archives.
Paul Springer, Jr.
2021 HBCU Library Preservation Alliance Program Summer Intern
Tags: archives, conservation, Conservation Services, Fisk University, HBCU Library Preservation Alliance, Internship, Paul Springer