The Seven Year Itch; or, A Sabbatical in Search of a Bibliographer
A séance with L.E. James (Jim) Helyar, our late fellow librarian, and bibliographer of KU's foundational Ralph N. Ellis collection of ornithology, is in order.
In our recent attempts to catalog mysterious heretofore unidentified bibliographical puzzlements in our Ellis collection backlog, we nailed the identity of a royal folio without a title page that had stymied Jim: he knew it was related to Alexander Wilson's American Ornithology, but not how. Even though Jim was closer to solving this who-done-it than he knew, he wrote in notes left behind that "I don't immediately see anything under Wilson or Bonaparte which corresponds." "I suspect it's something that 'every [ornithological bibliographical] schoolboy knows', but not me."
Apparently, Jim was thrown off by the "Wilson/Bonaparte, American Ornithology" notes written at the bottom of the vulture plate shown below, so in fact who-done-it was not exactly who Jim thunk done-it. This messy (both physically and bibliographically) volume turned out to be an imperfect variant of one of our exceedingly rare ornithological tomes: the royal folio edition of Scottish naturalist Captain Thomas Brown's Illustrations of the American Ornithology of Alexander Wilson and Charles Lucien Bonaparte, published in Edinburgh in 1835 (Call Number: Ellis Aves H76). This volume was created as an atlas to accompany a much earlier text, Alexander Wilson's American Ornithology, first issued in Philadelphia between 1808 and 1814. In his notes Jim mentions Thomas Brown only as one of the artists credited for the "Wilson derived illustrations."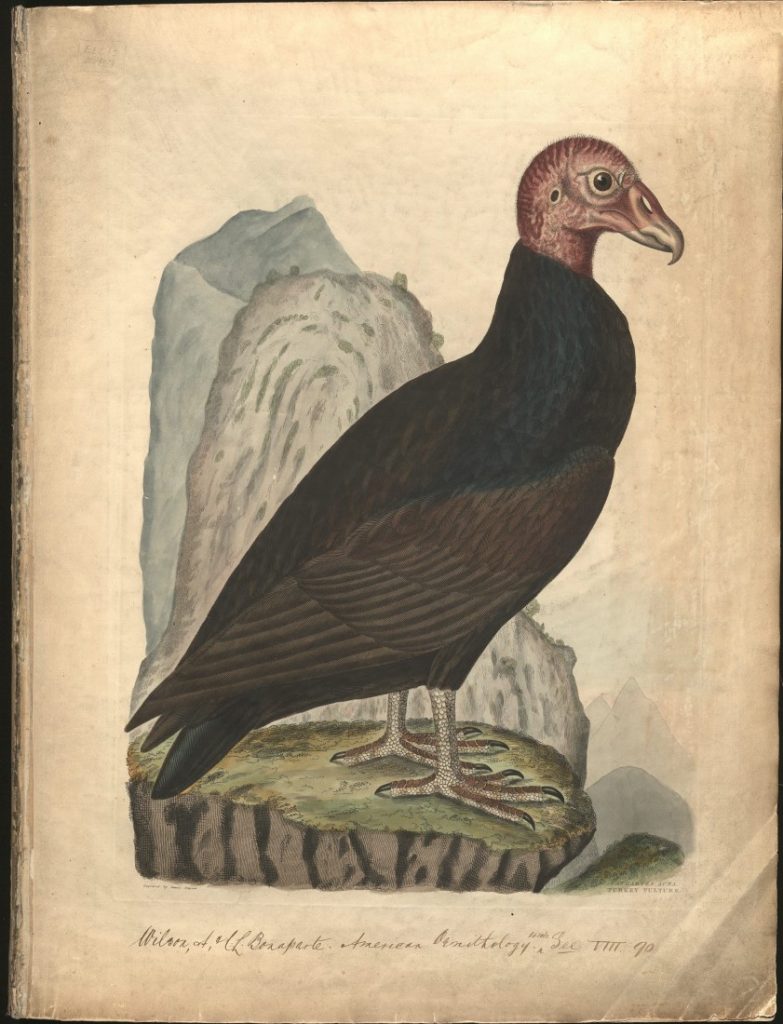 I have created a small exhibition of the two copies, plus my start on what could be an arduous time-taking continent- and/or world-crossing project, to complete a census, not altogether do-able, ideally, entirely on-line or by phone. I was tempted at first to try the on-line and phone route, but same as with Jim perhaps … oh, the press of time …
The exhibit is free and open to the public in the North Gallery through September 16.
Sally Haines
Special Collections Cataloger
Tags: Cataloging, Exhibitions, Ornithology, Ralph N. Ellis Collection, Sally Haines, Special Collections