The North Gallery Revisited
The word "iconic" is often overused, but I believe it describes, better than any other word, the power of the Spencer's North Gallery. People who have not been on campus for decades remember "the red room," or the "room with the books." Often, of course, they remember the "room with the view of the Campanile."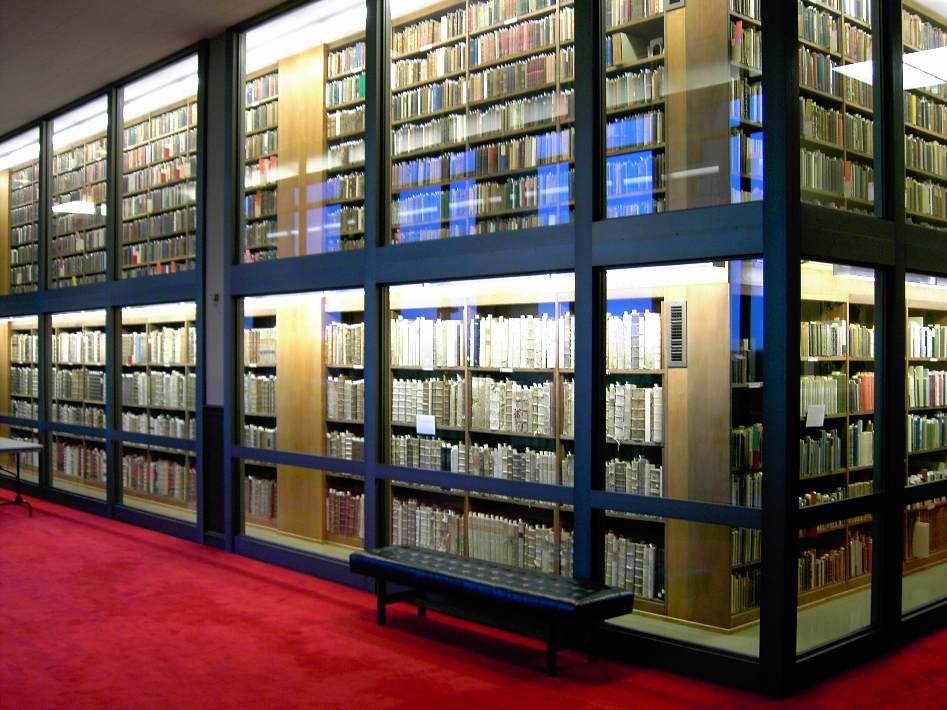 Kenneth Spencer Research Library's North Gallery, view into the
Summerfield and P. S. O'Hegarty collections. Click image to enlarge.
The exposed shelving of the North Gallery (once called "the Ambulatory") has housed outstanding items from Special Collections since the opening of the library in 1968. Its visual and intellectual appeal cannot be overstated. It not only houses books, like a section of the larger Summerfield volumes, for example, but intriguing artifacts like several horn books and the jumbled writs of habeus corpus that fascinate visitors every day.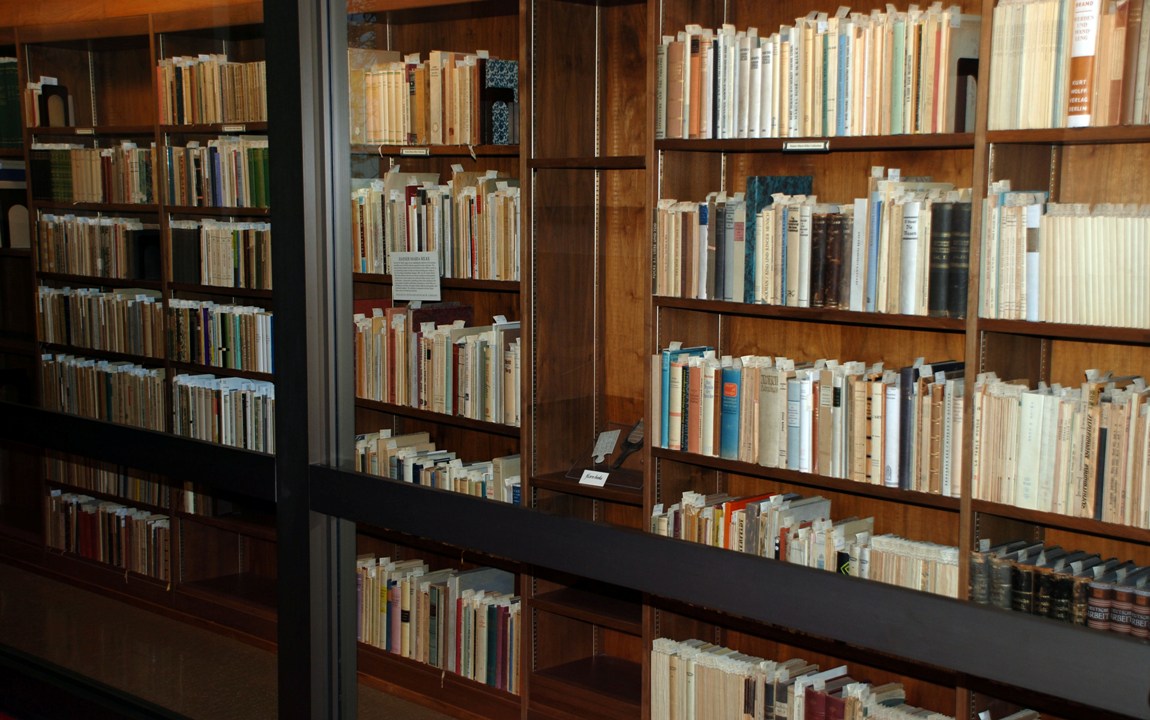 Kenneth Spencer Research Library's North Gallery, with view of the Rilke Collection
and the horn books (center shelf) on display. Click image to enlarge.
The Spencer collections, however, are not the same as they were in 1968 when the third floor was the province of Special Collections and books were the name of the game. With the consolidation of the public spaces of Special Collections, Kansas Collection, and University Archives in the early years of the 21st century, and the continuing desire to provide a more interpretive context for our collections in general, we are considering how best to program this stunning space as a true gallery. An enthusiastic group of Museum Studies students recently completed a project to explore bringing diversity and experience into the space through an interesting array of physical and virtual exhibit "stations."
What would you like see in our signature space for visitors? Is there something we should consider as we move forward with these plans? I'd welcome your input and suggestions as we look ahead to the future of the North Gallery.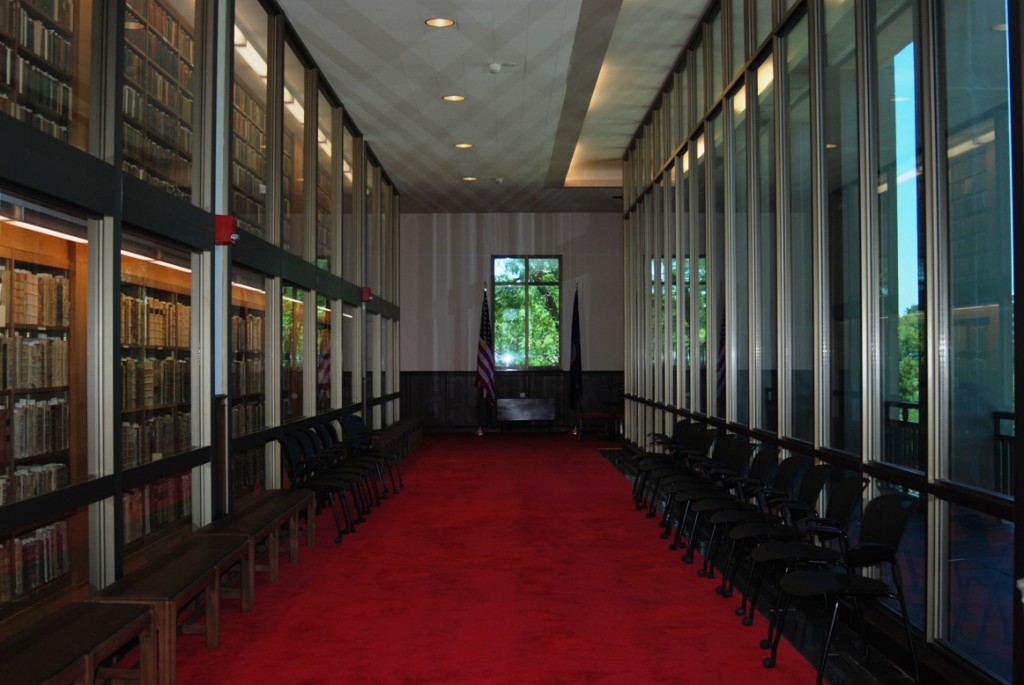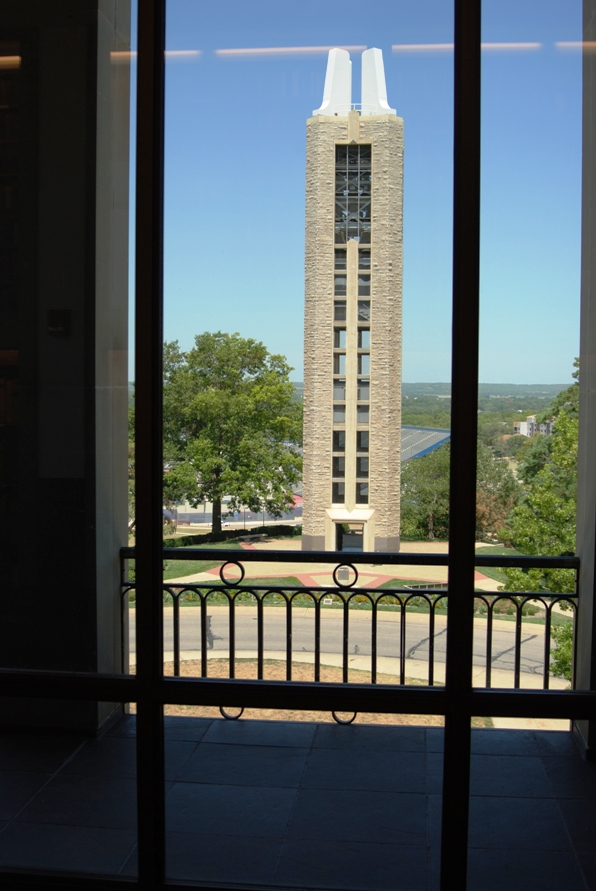 Amazing vistas: A wide view of the North Gallery (top)
and looking outward onto the Campanile (bottom).
Click images to enlarge.
Beth M. Whittaker
Head of Kenneth Spencer Research Library
Tags: Beth M. Whittaker, Cultural Heritage Institutions, Exhibitions, Gallery redesigns, Kenneth Spencer Research Library, Public Spaces