Dragonheart and Weaselfoot
No kidding, there really was a seven-headed hydra, and it took an 18th century St. George to slay it:  Swedish naturalist Carl Linnaeus. In Hamburg, Germany, Linnaeus exposed as a fake the specimen of a seven-headed hydra that its owner, the mayor of Hamburg, had been trying to sell–and his asking price was high. This curious critter had been looted from a church in 1648 after the Battle of Prague and had come into the mayor's hands. Even the king of Denmark had supposedly made an unsuccessful bid for it. The mayor found he was having to lower his price, which had been falling steadily when Linnaeus tactlessly published his findings that the jaws and feet were those of a weasel and that carefully joined snake-skins covered the body. Fearing the mayor's revenge for rendering his hydra worthless, the Swede made a hasty exit from the city. The Kenneth Spencer Research Library holds a significant collection of Linnaeus and Linnaeana (follow the link and scroll down for a brief description of the collection).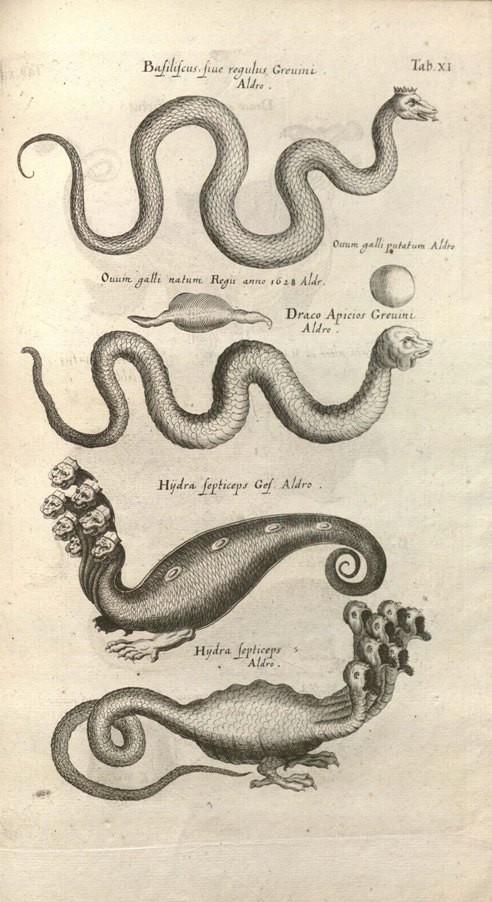 Historiae Naturalis de Serpentibus, by Joannes Jonstonus (1603-1675). Heilbronnae: apud Franciscum
Iosephum Eckebrecht, 1757. Call Number: Ellis Omnia E26 item 2. (Click image to enlarge.)
Jonstonus (or Jonston, sometimes Johnstone) was a naturalist of Scottish descent born in Poland. After studying botany and medicine at Cambridge, he settled in Leiden in order to indulge his interest in natural history. His writings are criticized as laborious compilations, and the copper-plate engravings are mostly copies from Belon, Rondelet, Gessner, and others.
Sally Haines
Rare Books Cataloger
Adapted from her Spencer Research Library exhibit and catalog, Slithy Toves: Illustrated Classic Herpetological Books at the University of Kansas in Pictures and Conservations (print copies of the exhibition catalog are available at KU Libraries).
Tags: Carl Linneaus, Historiae Naturalis de Serpentibus, Hydras, Joannes Jonstonus, mythical creatures, natural history, Sally Haines