The Headless Horseman Rides Again
Recently, this book came into the conservation lab with a detaching spine and separated boards. It is volume 2 of a version of The Headless Horseman: A Strange Tale in Texas by Captain Mayne Reid. The gold-stamped cover caught my eye. It features this curious gentleman, minus head, but with boots and spurs.
Left: The Headless Horseman, before treatment. Right: A detail of the cover.
Call number C3400, Special Collections. Click images to enlarge.
To bring the book back to a usable condition, first I removed the previous paper spine lining with a softener called methylcellulose.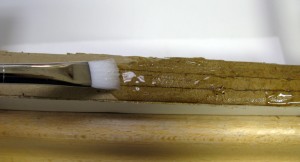 Application of methylcellulose to the spine lining to soften it. Click image to enlarge.
A layer of thick Japanese paper, applied with paste, served as a method for consolidating the spine and reattaching the boards, all at once. The Japanese paper extended onto the boards, under the lifted cloth.
Next I applied a lining that included a tube of paper (called a "hollow"), used to keep the fragile original spine pieces from bending inward when the book is opened. Finally, I dyed some red Moriki Japanese paper to match the cover cloth, and applied that over the tube and under the lifted cloth.
Left: Applying the hollow over the Japanese paper lining. Right: Applying dyed paper over the hollow.
Call number C3400, Special Collections. Click images to enlarge.
The final step was to reattach the loose spine pieces. The spine is still fragile, so I added a polyester dustjacket as a final precaution.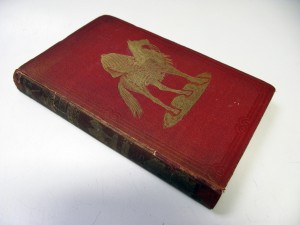 The finished conservation treatment (before the dustjacket).
Call number C3400, Special Collections
The Headless Horseman is ready to ride again!
Whitney Baker
Head, Conservation Services
Tags: Captain Mayne Reid, Conservation Services, conservation treatments, Headless Horseman, Whitney Baker