August 1st, 2014
August has now arrived, and so the dog days of summer begin. The weather gets a bit steamier and we all realize summer will be over before we're ready. So we want to pack our weekends full of fun, not full of dreaded summer chores like mowing the lawn.
Take a look back in time, to the 1950s, when Granger Manufacturing Company of Kansas City, Missouri, had a patent pending for the VAC-U-MOW.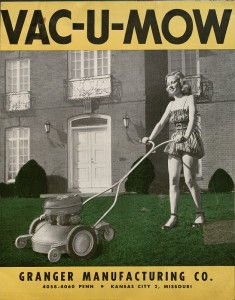 Love the outfit and shoes! Granger Manufacturing Company's
advertising booklet for the VAC-U-MOW, circa 1950-1959.
Kansas Collection. Call Number: RH P884. Click image to enlarge.
According to an advertising brochure that is part of Spencer's Kansas Collection holdings, "enjoyment takes the place of drudgery with the new VAC-U-MOW — a high-power mower designed to combine maximum efficiency with utmost safety." Moreover, the new machine was promised to be versatile enough for a variety of landscapes: "From the neat, smooth lawn to the roughest weed patch, your VAC-U-MOW makes any grass-cutting job a pleasure. Sprouts and dandelions cut as smoothly as the finest blue grass. The garden, orchard and cemetery are easy to tend with a VAC-U-MOW."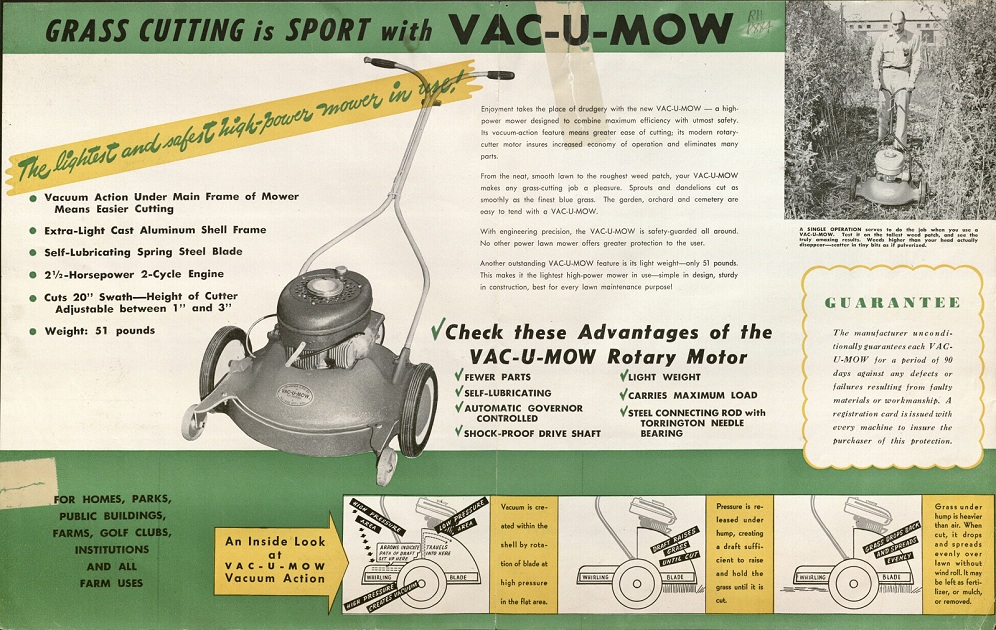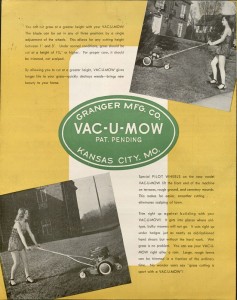 Middle and back pages of the VAC-U-MOW advertising booklet.
Kansas Collection. Call Number: RH P884. Click images to enlarge.
The booklet goes on to promise potential customers that they can "trim right up against buildings with your VAC-U-MOW! It gets into places where the old-type, bulky mowers will not go. It cuts right up under hedges just as neatly as old-fashioned hand shears but without the hard work. Wet grass is no problem. You can use your VAC-U-MOW right after a rain. Large, rough lawns can be trimmed in a fraction of the ordinary time. No wonder users say 'grass cutting is sport with a VAC-U-MOW'!"
An ad in The Kansas City Star newspaper on April 13, 1952 listed the price for a new VAC-U-MOW as $134.50, which seems to have made it one of the more expensive lawnmower options at the time.
Meredith Huff
Operations and Stacks Manager, Public Services