February 2nd, 2015
Taking our cue from a 2009 Conserve-O-Gram (a free resource published by the National Park Service) titled "Flag Rolling and Storage," staff in Conservation Services created an inexpensive and accessible textile storage system. The University of Kansas class and school banners are part of the collection materials found in University Archives. These banners are an important part of the history of the commencement ceremony at the university. The banners are visually interesting and also instructive artifacts as markers of KU's changing awareness of brand identity.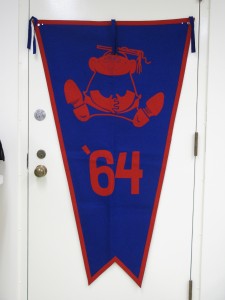 1964 KU class banner, used in graduation ceremonies
After photographing each banner, staff carefully rolled each item around an pH-neutral cardboard core.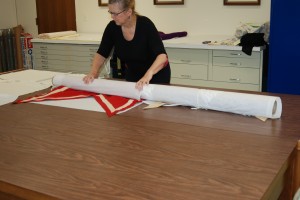 Rolling a class banner on a core.
The rolling process began with a tissue paper-liner and ended with a cover of cotton muslin. Each cover was tied into place just beyond the edges of the banner and identified with a small tag showing an image of the item inside as well as its call number.
Left: Visual identification tag for 1964 class banner. Right: Many rolled items, ready for hanging.
There are several advantages to rolling textiles for long-term storage. There are no folds made in the fabric, reducing stress on the fibers and limiting the creation of breaks and tears. Each textile can be removed independently of the others (unlike housing several textiles in a single box) thus decreasing the number of times all the objects must be handled. And because hanging storage is vertically oriented, it takes up less space than shelves or drawers, and can be fitted on an unused wall or into an aisle.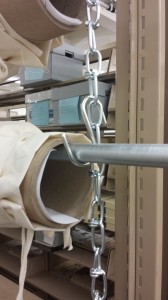 Detail of hanging mechanism.
Once staff completed the rolling process, empty shelves were removed from two ranges in the Spencer stacks. A durable, link-style chain was suspended from the overhead shelving beams and secured into place using locking bolts. Metal electrical conduit was cut to the proper length and passed through the center of the cardboard tubes. S-hooks were hung at intervals along the chain to support the rolls.  The resulting storage has a slim profile, and provides quick and easy access to the collection materials.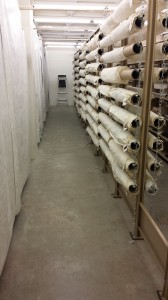 Overall view of rolled textile storage.
Roberta Woodrick
Assistant Conservator
Conservation Services