September 7th, 2012
The bullfrog, Rana catesbeiana, is the largest frog in North America. However, even as flat as he looks on this plate, he's an unlikely candidate for road pizza on your plate, because although he's an amphibian, the adult bullfrog tends to stay in his moist habitat and not to venture out onto dry land. Unfortunately for him, in this country, he's one of the few species large enough to provide a satisfactory meal of frog legs for Homo sapiens.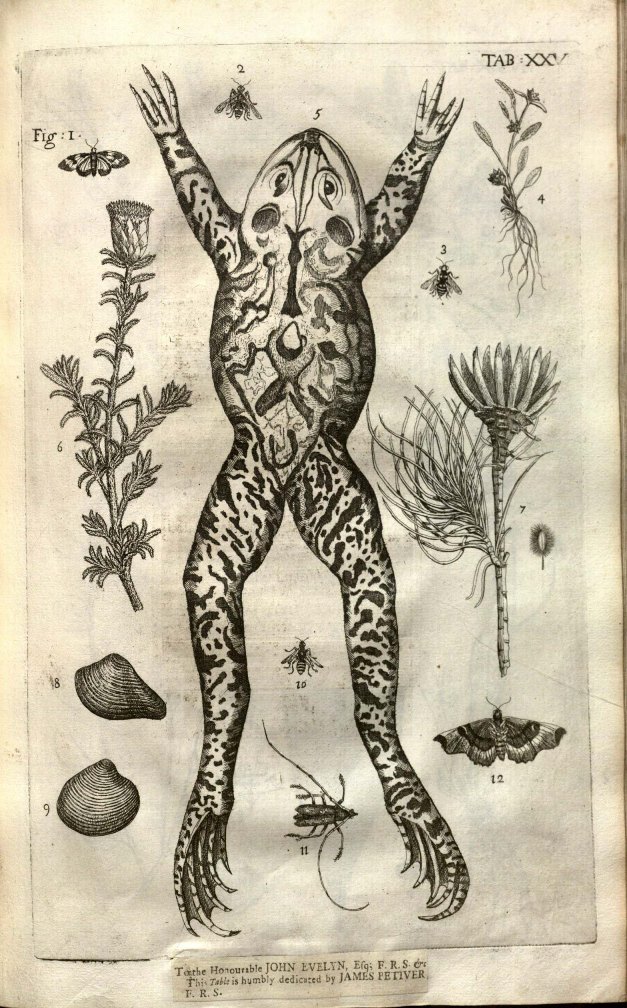 James Petiver (1663 [or 4]-1718).  Gazophylacii naturæ & artis,: decas prima-[decima]. In quâ animalia,
quadrupeda, aves, pisces, reptilia, […] descriptionibus breviubs & iconibus illustrantur. Londonii: Ex Officinâ
Christ. Bateman ad insignia Bibliæ & Coronæ, vico vulgo dict. Pater-Noster-Row., MDCCII. [1702-1706?]
Call Number: Ellis Aves E116 item 2. Click image to enlarge.
James Petiver, known primarily as a botanist and as one of the founders of British entomology, went to considerable expense to have ships' captains and surgeons supply him with specimens of natural history from around the world for his museum. In the Gazophylacium, one of Petiver's rarest and most interesting productions, the figures of reptiles and amphibians, plants, shells, insects, birds, and other animals are displayed together on the same plate. It was the intention of both author and publisher that the text be pasted down on the versos of the plates facing the appropriate plate, with dedication mounted at the foot of each, as in the Spencer Library's copy; however, in most states of the work, text is simply printed on the back of each plate.
Sally Haines
Rare Books Cataloger
Adapted from her Spencer Research Library exhibit and catalog, Slithy Toves: Illustrated Classic Herpetological Books at the University of Kansas in Pictures and Conservations