April 17th, 2017
Of the sixteenth century Vergils in the Robert Aitchison Collection of Vergil's Works in Special Collections at the Spencer Research Library, the 1502 Opera, printed at Strassburg by Johannes Gruninger (also known as Reinhart), is the most impressive and the oldest. It is illustrated with 214 charming woodcuts which reveal many aspects of Renaissance life from field and farm to city and tower. These illustrations, certainly the first to create so illustrious a progeny, form the basis for practically all the Vergilian illustrations of the sixteenth century as they may be seen in the 1517 and 1529 Opera of Lyon, the Giuntine Opera of 1537, and the 1546 Opera of Venice.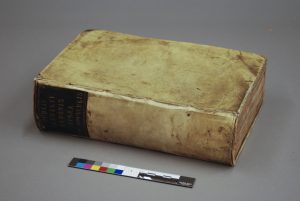 Publii Virgilii Maro[n]is opera. Strassburg, J. Gruninger, 1502.
Call number: Aitchison D2. Click image to enlarge.
Woodcuts and text from the 1502 Opera. Click images to enlarge.
Written by L.R. Lind
Adapted from The R. T. Aitchison Collection of Vergil's Works at the University of Kansas Library, Lawrence