October 4th, 2017
The Spencer Research Library is very fortunate to have a host of student employees to assist with the daily functions of the Library; certainly, the same is true for Conservation Services, the preservation department for all of KU Libraries including Spencer Research Library. One of the important and on-going projects performed by our student employees for Spencer Research Library is creating custom enclosures for some of the more fragile materials. Books with loose or missing covers, damaged spines, or warped covering boards are among those identified by curators, catalogers, and the special collections conservators as candidates to be housed. The enclosures, known as tuxedo boxes or "tux boxes" for short, are custom fitted, four-flap wrappers, constructed from acid-free card stock.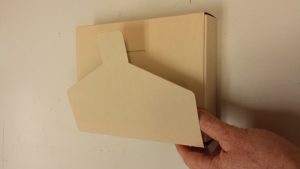 The books are measured using a wooden device known as a MeasurePhase. It is a wonderfully handy tool that functions much like a pair of calipers designed to map the height, width, and thickness of a three-dimensional object.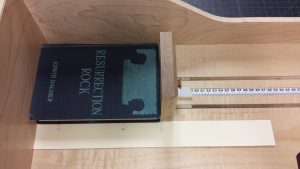 One of the great advantages of this tool is that the books (or objects) can be measured in situ and the dimensions recorded on strips of paper with a pencil. These strips can then be taken to the conservation lab, where the materials and equipment needed to construct the boxes reside. This minimizes the likelihood of damage that can occur during handling and transport of the delicate books. Conservation Services student employees use the MeasurePhase, paper strips, and pencils, as noted above. They might need to turn the book several times for each of the dimensions, until the point of greatest width is found.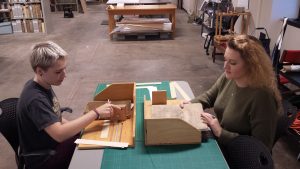 Next they transfer the information from the paper strips to the card stock, cutting two long pieces of card to form the wrapper. One piece is cut to the height of the book and the second to the width. The thickness or depth of the book is added, as the students mark, score, and fold the card.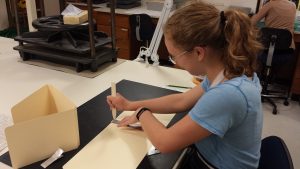 The two long prices of card are joined using double-sided tape, and a slot and tab is created on the outer two flaps of the wrapper. The tab, in particular, is a task that requires a skillful touch with the straight-edge and scalpel. All pencil marks are erased from the boxes, and the students place the completed boxes on a shelf where they are labeled by our bindery staff person.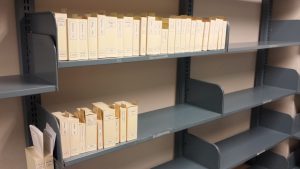 Once a group of boxes is labeled, the students return the boxes to Spencer Research Library where they are united with their books. The label information is checked against the book itself  and the book is returned to the shelf. Conservation services student employees construct hundreds of tuxedo boxes each year for the more at-risk books in Spencer Research Library. These enclosures reduce damage from dust, handling, and light, and prevent loss of pages from loosely bound volumes. In this way, a small amount of preservation is spread among a large number of volumes.
Roberta Woodrick
Collections Conservator
Conservation Services