February 23rd, 2015
Conservation Services has system-wide responsibilities, but an increasing focus is on Spencer Library materials and collections. There are two main conservation workspaces: a full-fledged conservation lab in Watson Library and workroom in Spencer Library. In this post, we feature the Stannard Conservation Lab.
KU Libraries has had a book bindery/mendery from at least the 1960s, located in the basement of Watson Library. The image below shows the woman on the left sewing a book on a sewing frame, and other staff standing by books batched for case binding.
View of University of Kansas bindery, before 1965, located in the basement of Watson Library.
As part of the drive in American research libraries in the 1980s and 1990s to build conservation laboratories to serve a wider range of collection needs, in 1994 the Libraries organized a Preservation Department and recruited Brian Baird as the first Preservation Librarian. Almost immediately, he began to plan, build, staff, and equip a modern conservation laboratory. These efforts came to fruition in 1997 with three major events: Meg Brown was appointed as the Libraries' first full-time conservator; a renovation project was completed on the ground floor of Watson Library to create contiguous working space for the Preservation Department; and funds were raised from private donors to equip the facility.
Two views of the Stannard Lab, looking west (left image) and east (right image).
On March 19, 1998, the University of Kansas Libraries dedicated the Jerry and Katherine Stannard Conservation Laboratory and paid tribute to Jerry and Katherine Stannard, the Southwestern Bell Foundation, the Ethel and Raymond F. Rice Foundation, the Charles A. Frueauff Foundation, the Lawrence Walmart Green Team, and Kathryn Davis for their generous gifts that made it possible to equip the Stannard Laboratory. At the dedication, Erica Stannard-Schenk, Jerry and Katherine's daughter, unveiled a beautiful quilt that is now on permanent display in the entrance of the laboratory.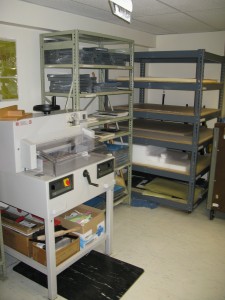 View of the storeroom outside the Stannard Lab.
In 2011, the department was renamed Conservation Services. A second space in Spencer Library was acquired to take care of simple treatments on site, so as to reduce the transportation of rare materials from one library to another. The department's focus continues to evolve, but we pay tribute to the events that brought us to where we are today.
Whitney Baker (using some text written by Brian Baird)
Head, Conservation Services