April 25th, 2013
This week's post comes from undergraduate public services student Meaghan Moody, who during this last week of National Poetry Month examines poetic depictions of Irish nationalist Countess Constance Markievicz.
On Monday, April 24th, 1916, Irish nationalists seized strategic infrastructure in Dublin to expel the British and establish an independent Irish Republic. Among these insurgents was Constance Markievicz (1868-1927), who served as second in command under Michael Mallin of the Citizen Army force in St. Stephen's Green.  Markievicz was sentenced to death for her involvement in what became known as the "Easter Rising," but the sentence was later commuted to life in prison based solely upon her sex. Markievicz is remembered and celebrated for her fearlessness, her intrepid nature, and her radical military dress. In the image below, you can see her in her full military regalia.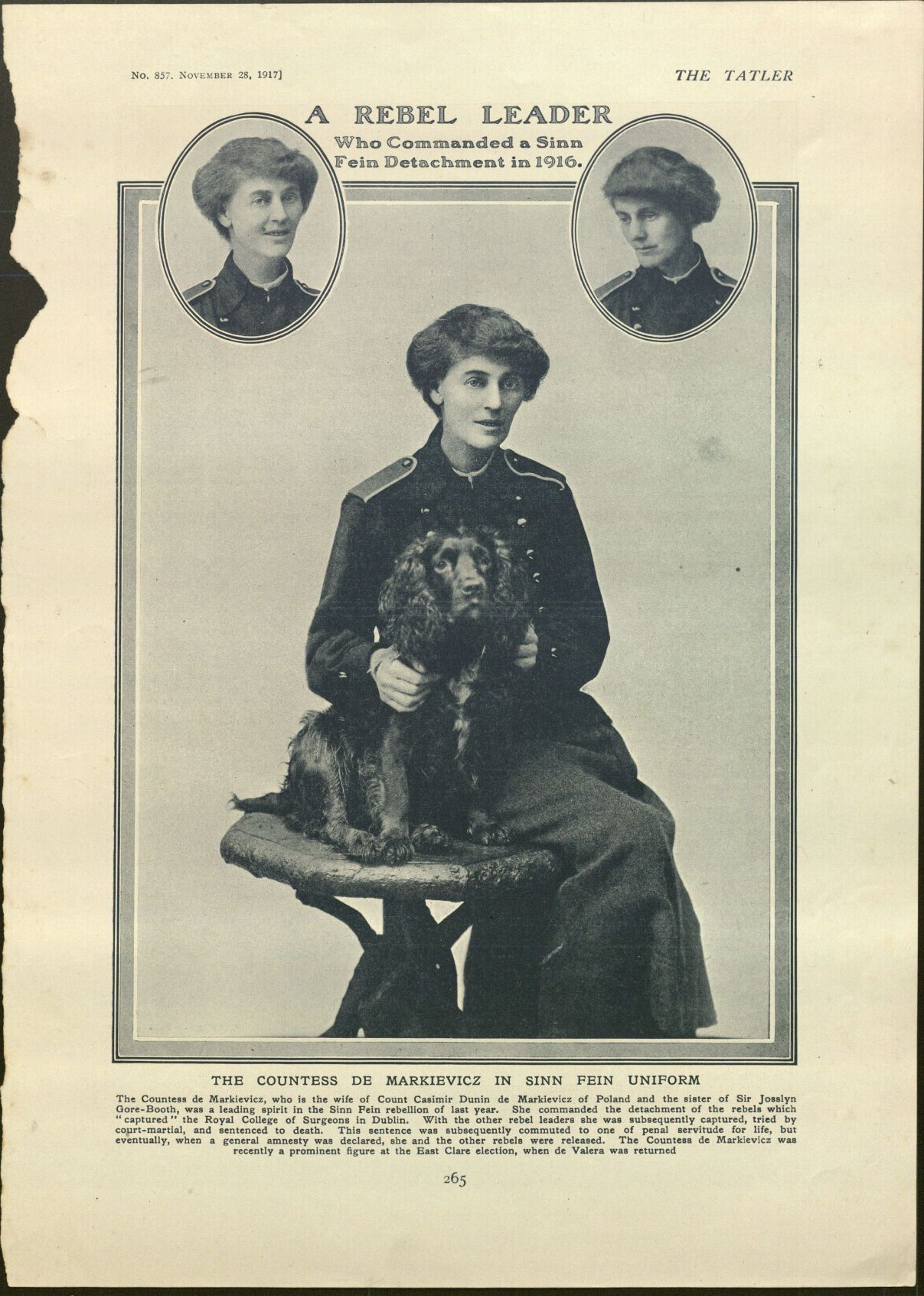 "A Rebel Leader" (Constance Markievicz) [image excised from the Tatler, Nov. 28, 1917]. Call Number: O'Hegarty Q38.
While conducting research for my English 530 course, Irish Renaissance Literature, I came across two strikingly similar depictions of the Countess by two Irish writers with diverging political beliefs. W.B. Yeats, a cultural nationalist, and Eva Gore-Booth, a pacifist suffragist and Constance's sister, both fundamentally condemned the Rising and its resulting violence. They both also depict Markievicz and her subsequent imprisonment in their poetry.
W.B. Yeats knew Markievicz in her youth. He preferred his memory of her innocent beauty and rejected her involvement in politics.
Cover and "On A Political Prisoner" from W. B. Yeats's Michael Robartes and the Dancer. Churchtown, Dundrum: The Cuala Press, 1920. Call Number: Yeats Y45. Click images to enlarge.
Eva Gore-Booth, too, disapproved of her sister's involvement, but, unlike Yeats, depicted Constance as an ethereal, spiritual being, as seen in this poem that she sent the imprisoned Constance for Christmas.
Cover and "To Constance–In Prison" from Eva Gore-Booth's Broken Glory. Dublin; London: Maunsel, 1918. Call Number: B11104. Click images to enlarge.
In her prison letters, Markievicz reflected on herself as a poetical inspiration, remarking, "I love being in poetry and feel so important!"
Though she recognized her sister's aversion to violence, Markievicz took pride in the role she played in the Easter Rising and felt a sense of honor in her subsequent incarceration. She wrote to Eva, "Don't worry about me. I am quite happy. It is in nobody's power to make me unhappy. I am not afraid, either of the future or of myself."
Meaghan Moody
Public Services Student Assistant
Source consulted: Weihman, Lisa. "Doing My Bit for Ireland: Transgressing Gender in the Easter Rising."  Éire-Ireland 39.3&4 (2004) 228-249.