River City Rebels: Beat Poetry in Lawrence
In this week's post, Museum Studies graduate students Anna Paradis, Bre Wasinger, Karrah Whitlock, and Melody Yu reflect on the experience of curating and mounting the exhibition "River City Rebels: Beat Poetry in Lawrence," which is currently on display in the Kenneth Spencer Research Library's exhibition gallery.
On Thursday, May 9th, we celebrated the opening of our new exhibit with a reception. This event marked the completion of the semester-long project in which four museum studies graduate student collaborated with Elspeth Healey, Whitney Baker, and other KU Libraries staff to create an interactive exhibit that compellingly tells the story of Lawrence's River City Reunion and introduces visitors to some of its more notable characters, including writers Allen Ginsberg, William Burroughs, and Diane Di Prima.
Left: Museum Studies students Anna Paradis, Karrah Whitlock, and Melody Yu install materials in an
exhibition case for the River City Rebels exhibition. Right: Museum Studies student Bre Wasinger
in front of the case she developed on Allen Ginsberg. Click images to enlarge.
Student curator Bre Wasinger remarked she is particularly proud of the "interactives" (or interactive features of the exhibition) – "the listening lounge and poetry wall bring an air of creative sharing and activity to the space that emulates the creative process so central to the Beat community. I hope that people who experience this exhibit find themselves feeling more connected to and curious about Lawrence's past. Knowing that these rebellious writers were so drawn to Lawrence (a town historically known for its own rebellious attitude) makes me proud to be here, and I hope we can impart this feeling onto others who visit the Kenneth Spencer Research Library." Fellow students, Anna Paradis, Karrah Whitlock and Melody Yu, learned a lot about the individual poets and the town, as well as the many processes central to planning and executing exhibits through their MUSE 703: Introduction to Exhibits course taught by Bruce Scherting, the Exhibits Director at the Biodiversity Institute.
Left: Exhibition visitor at the Beat-themed magnetic poetry wall.
Right: Visitors at the River City Rebels exhibition opening. Click images to enlarge.
River City Rebels showcases the diverse and interesting holdings at Spencer Research Library for Beat poetry. Karrah Whitlock described the challenges the group experienced when choosing objects for the exhibition, as there were so many unique and visually interesting pieces. Many non-traditional items such as t-shirts, event flyers, handwritten journals, and personal photographs are featured in the collections. It was also important to the student curators to illustrate the strong link of several of the iconic Beat figures to Lawrence. At the exhibit opening several local Lawrencians had personal stories of interactions and experiences with William Burroughs and Allen Ginsberg, as well as memories of the River City Reunion, which took place in Lawrence in 1987.
Left: Exhibition case featuring materials from the 1987 River City Reunion in Lawrence, KS.
Right: Exhibition case featuring William S. Burroughs materials. Click images to enlarge.
This was a true team effort and the student curators are indebted to librarian Elspeth Healey and KU Libraries Conservator Whitney Baker. Both of these staffers worked closely with the exhibit team and assisted in so many ways. The experience has strengthened our knowledge as well as our real-world abilities to create and share an enriching experience – none of which would have been possible without the support of each other and our collaborators.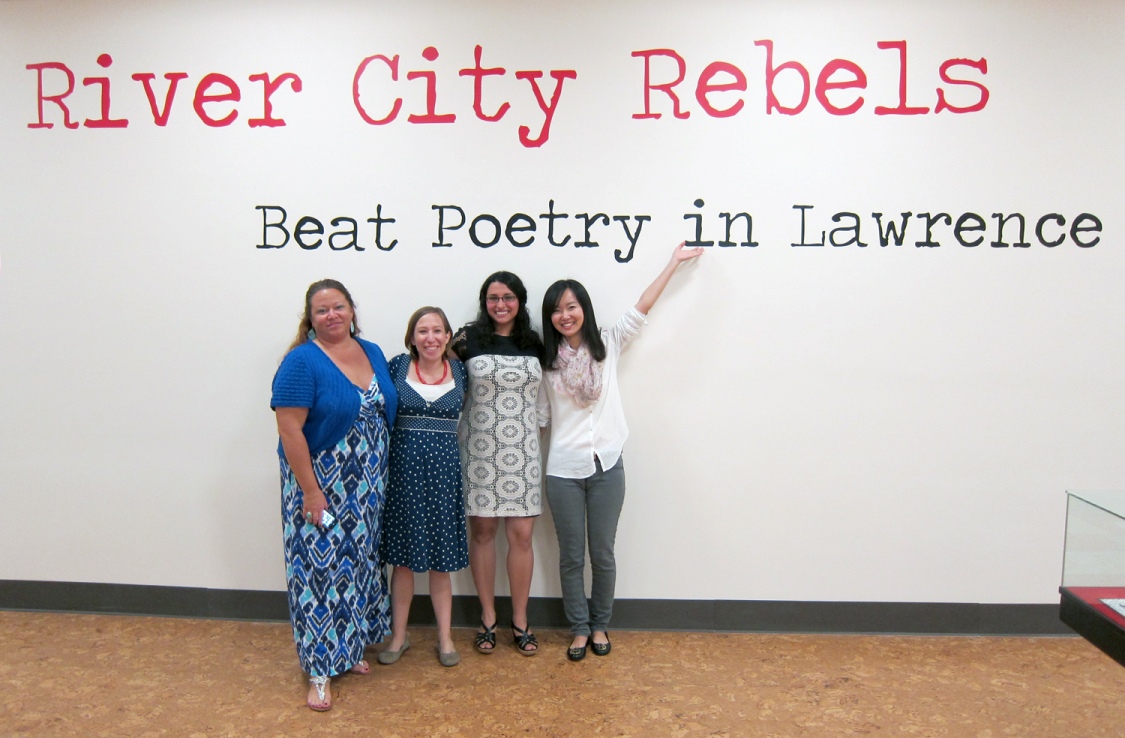 Graduate student curators (left to right) Karrah Whitlock, Anna Paradis, Bre Wasinger, and Melody Yu
in front of the River City Rebels: Beat Poetry in Lawrence exhibition title wall
It should also be noted that there are two other student-curated exhibits currently taking place through the museum studies program: Continued Dedication, a special exhibit honoring Senator Dole's service at the Dole Institute, and Occasional Mayhem: Exploring Crime and Punishment in Lawrence at the Watkins Museum (which coincidentally also features William Burroughs).
Anna Paradis, Bre Wasinger, Karrah Whitlock, and Melody Yu,
Museum Studies graduate students in MUSE 703: Introductions to Exhibits (Instructor: Bruce Scherting)
Tags: 20th-century literature, Allen Ginsberg, Anna Paradis, Beat Poetry, Beats, Bre Wasinger, Diane Di Prima, Exhibitions, Kansas, Karrah Whitlock, Lawrence, Melody Yu, Mounting an exhibition, Museum Studies, River City Rebels, River City Reunion, William Burroughs