Pulp Writer Homer Eon Flint: A Donor's Story
A guest post from Vella Munn
Securing a final resting place for my grandfather Homer Eon Flint's body of published fiction at the University of Kansas began with a backdoor approach. An email I sent to a man involved with Science Fiction Writers of America led to an introduction to James Gunn, SF writer, scholar, and founder of KU's Center for the Study of Science Fiction, and from there to a series of emails with Special Collections librarian Elspeth Healey.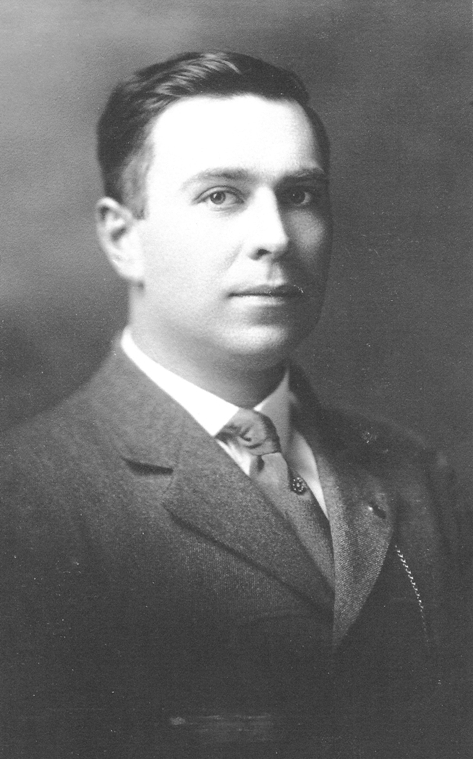 Homer Eon Flint, photograph courtesy of Vella Munn
As a result, nineteen 90+ year-old pulp magazines such as Argosy All-Story Weekly, Fantastic Novels, and Flynn's carrying Grandpa's work are no longer disintegrating in my office. They're being preserved by those who know how to treat the fragile publications, and I no longer worry that I'm not doing right by what I inherited.
The youngest of four children, Homer Eon Flint was born on Sept. 9, 1888 in Albany, Oregon. He devoured H. G. Wells, Jules Verne, Conan Doyle, and Rider Haggard, all known for their romantic fiction, and they made an indelible impact on him. With the encouragement of his wife, a teacher, and a hefty hospital bill to pay off, he started writing. He sold at least eight movie treatments for the fledgling film industry before moving onto short stories, penning everything from horror to humor.
Pictured above: The first installment of Homer Eon Flint's "The Money-Miler" in Flynn's, Vol. 1, No. 3,
October 4, 1924 (Call Number: ASF C924);  Cover of the issue of Flynn's that contained the second
installment of Flint's "The Money-Miler," Vol. 1, No. 4, October 11, 1924 (Call Number: ASF C925);
and protective enclosures used to house the fragile pulp magazines.
Flint made his mark with such science fiction as "The Emancipatrix," "The Devolutionist," "The Lord of Death," "The Queen of Life," and his co-written book The Blind Spot. Some two and a half million readers devoured The Planeteer. "The Money-Miler" ( Flynn's, October 4-18, 1924) was his last sale. He made it a month before his violent and mysterious death at 36. His 1924 payment for that novella-length story–$400.
In addition, Homer wrote a number of stories that weren't published. Those as well as his published work are being brought out by Musa Publishing.
Vella Munn
Vella Munn has written a biography of Homer Eon Flint, titled Grandfather Lost.
Tags: Homer Eon Flint, pulp magazines, Science Fiction, Vella Munn