Meet the KSRL Staff: Molly James
This is the latest installment in a recurring series of posts introducing readers to the staff of Kenneth Spencer Research Library. Today's profile features Molly James, who joined Spencer Research Library in 2022 as a Manuscripts Processor.
Where are you from?
I'm from Kansas! I was born in Wichita, then lived for a brief time in Salina before my family moved to Eudora, a small town just outside of Lawrence. After graduating high school, I moved to Manhattan, obtaining both my bachelor's and Master of Arts in English before returning to the Eudora-Lawrence area.
What does your job at Spencer entail?
I process incoming collections for Spencer's various collecting areas. This includes maintaining the original order that the materials' donor or creator had them in, or creating an order that makes sense if there wasn't one before, and then creating a finding aid to make these collections easily searchable online. Sometimes it also means identifying and sending a damaged item to Conservation and Preservation to stop something from deteriorating so it can be referenced in the future.
How did you come to work at Spencer Research Library?
Before working at Spencer, I spent six years with the Eudora Community Library, first as a volunteer then as a circulation assistant. Then, while I was working on completing my undergraduate degree, I was briefly introduced to Library Science by a K-Stater who was going to Simmons University to complete their Master of Library Science degree. Before this, I hadn't known there was an entire field dedicated to library science and spent some time researching it. This exploration led me to learn about archives and libraries in a broader sense, so when I graduated with my master's, I knew I wanted to return to a library to keep learning about how libraries and archives operate. I'm incredibly lucky to be here with the Spencer Research Library!
What is one of the most interesting items you have come across in Spencer's collections?
While I haven't interacted with a terribly large number of collections, the most interesting thing I've come across so far is a lock of hair in a baby book from 1919. I wasn't expecting it! Otherwise, the most interesting thing that I've seen (but didn't process) is the Hugo Award currently on display in the North Gallery.
What part of your job do you like best?
I feel like I learn something new every day – either about how libraries and archives work or history! I consider myself a lifelong learner, so having constant interactions with a continuously growing knowledge resource is fantastic.
What do you have on your desk?
I've got a small assortment of companions to help with processing – notably Gander the Magnetic Goose who holds on to the paperclips I find. Additionally, I've got both Calcifer the Fire Demon and Howl's Heart from Howl's Moving Castle, a magnetic Totoro, and a good luck tribble, if tribbles can be good luck signs.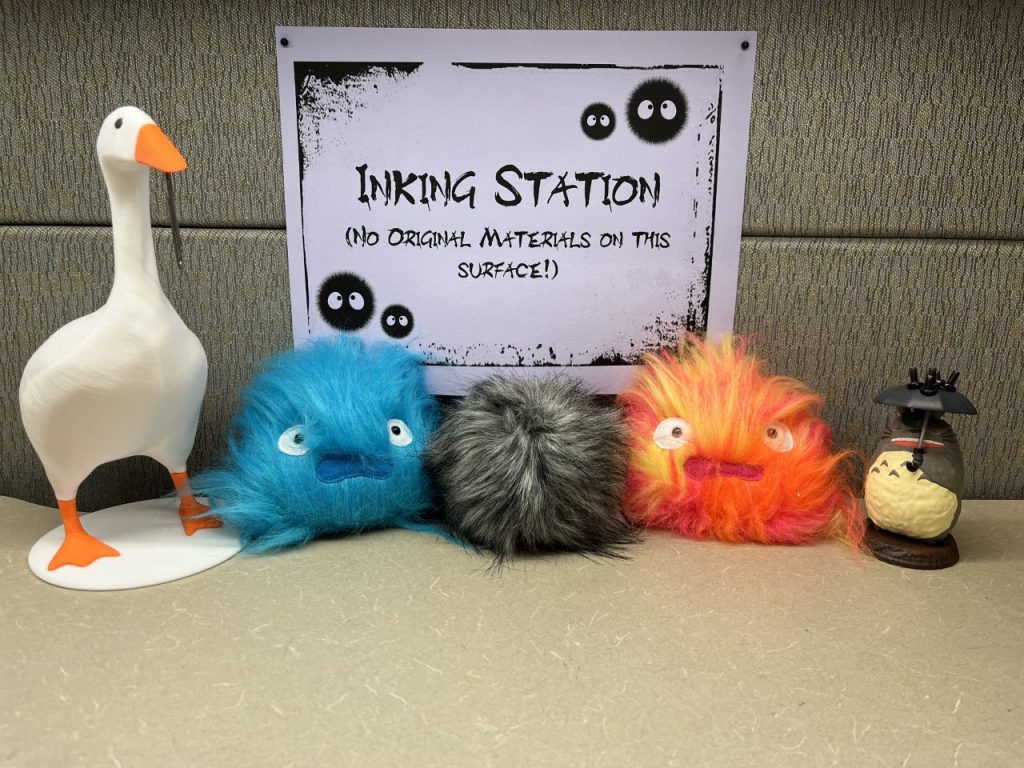 What are some of your favorite pastimes outside of work?
I enjoy reading – primarily science fiction and fantasy – when I'm not at work. I'm currently trying to work my way through a rather large to-be-read pile that I had started before pursuing my undergraduate degree. Besides reading, I enjoy spending time with my dogs, writing, and playing board and card games.
What piece of advice would you offer a researcher walking into Spencer Research Library for the first time?
Sometimes unexpected connections between collections appear, and when they do, don't be afraid to explore those opportunities! They might be the key to expanding your research horizons or unlocking something previously unknown.
Molly James
Manuscripts Processor
Tags: About Us, Behind the Scenes, Careers in Libraries, Meet the Staff, Molly James, Processing