Meet the KSRL Staff: Jaime Groetsema Saifi
This is the latest installment in a recurring series of posts introducing readers to the staff of Kenneth Spencer Research Library. Today's profile features Jaime Groetsema Saifi, who joined Spencer Research Library in 2022 as Assistant Librarian and Special Collections Cataloging Coordinator.
How did you come to work in Special Collections?
At the School of the Art Institute of Chicago, I studied in the Visual & Critical Studies department and engaged with theories in art history, social theory, and aesthetics that brought into question the meaning of visual objects. As a student worker in the John M. Flaxman Library, I learned about the importance of special collections and research libraries, like the Joan Flasch Artists' Book Collection, then run by the great Doro Boehme, and the Ryerson and Burnham Libraries.
After graduating, I started my library career at the Newberry Library, an independent research library dedicated to the humanities. This experience gave me a firm grounding in what it means to work with unique, rare, and scarce materials; to engage with an international scholarly community; and to consider the ethical responsibilities librarians and archivists have to the public in supporting access to these materials.
Since then, I've continued working with special collections materials and archives at libraries in Chicago, Denver, and Boulder. I am excited to continue to work with special collections materials in Lawrence at the Spencer Research Library!
What does your job at Spencer entail?
As the Special Collections Cataloging Coordinator, I support a team of four rare materials catalogers and manage workflows for our Special Collections Cataloging Unit. I enjoy working across the Spencer Research Library with Curators and colleagues in Conservation and Public Services, to ensure our collections are well-described and accessible.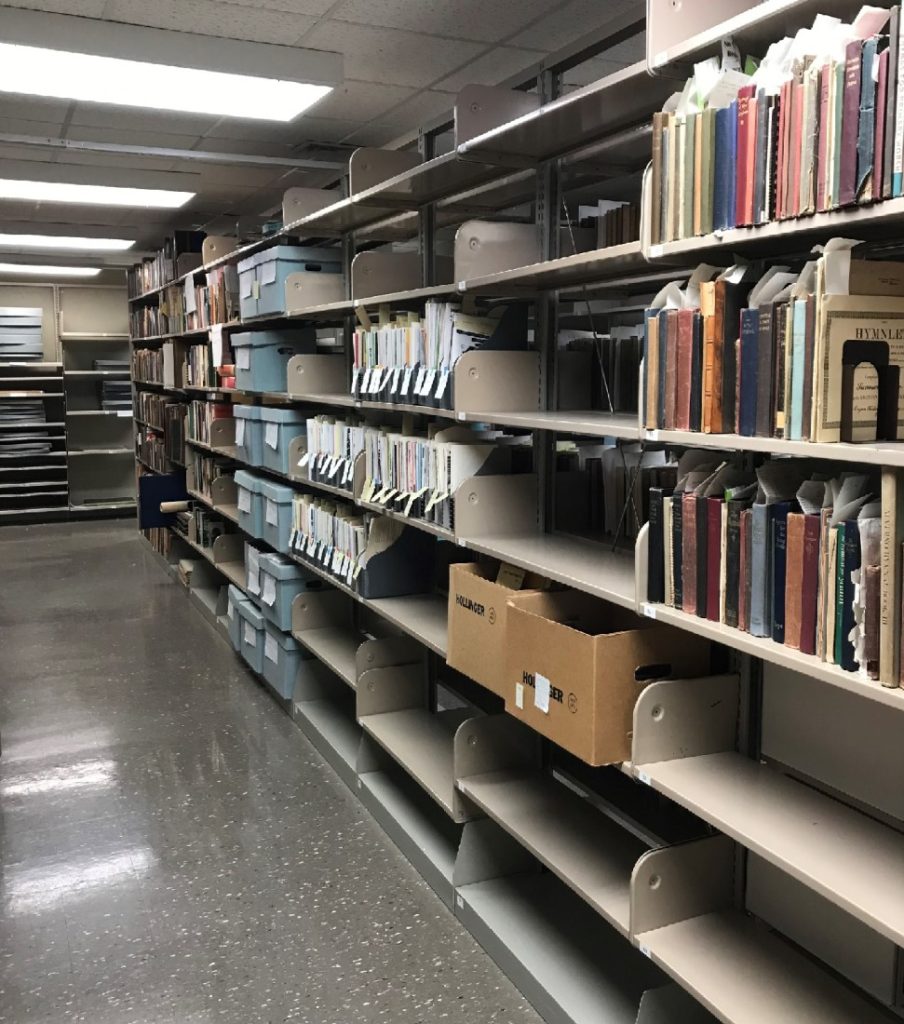 What is your research about?
My research focuses on the epistemological intersections of materiality, artifact, and environment and is concerned with the ways that (visual) evidence and language work together to transmute meaning. I am most interested in how pairings and double-meanings shape and question memory. To that end, I work with materials from antiquity through the contemporary period that come out of counter-cultural movements, very broadly defined.
What are some of your favorite pastimes outside of work?
I love to play pinball, draw, drink coffee, watch art films, and read.
What piece of advice would you offer a researcher walking into Spencer Research Library for the first time?
My advice to a researcher visiting Spencer Research Library for the first time is to take a stroll through the North Gallery and Exhibit Space to view our permanent and rotating exhibitions. They will give you a small glimpse into the expansive, important, and complex collections, both new and old, that the Spencer Research Library provides public access to. On your way out, pick up a Spencer 50th Anniversary exhibit catalog to learn more and celebrate your visit.
Jaime Groetsema Saifi
Special Collections Cataloging Coordinator
Tags: About Us, Behind the Scenes, Careers in Libraries, Jaime Groetsema Saifi, Meet the Staff, Processing