Meet the KSRL Staff: Angela Andres
This is the fourth installment in what will be a recurring series of posts introducing readers to the staff of the Kenneth Spencer Research Library. Joining the Conservation Services unit in Summer 2015, Angela Andres is the new Assistant Conservator for Special Collections.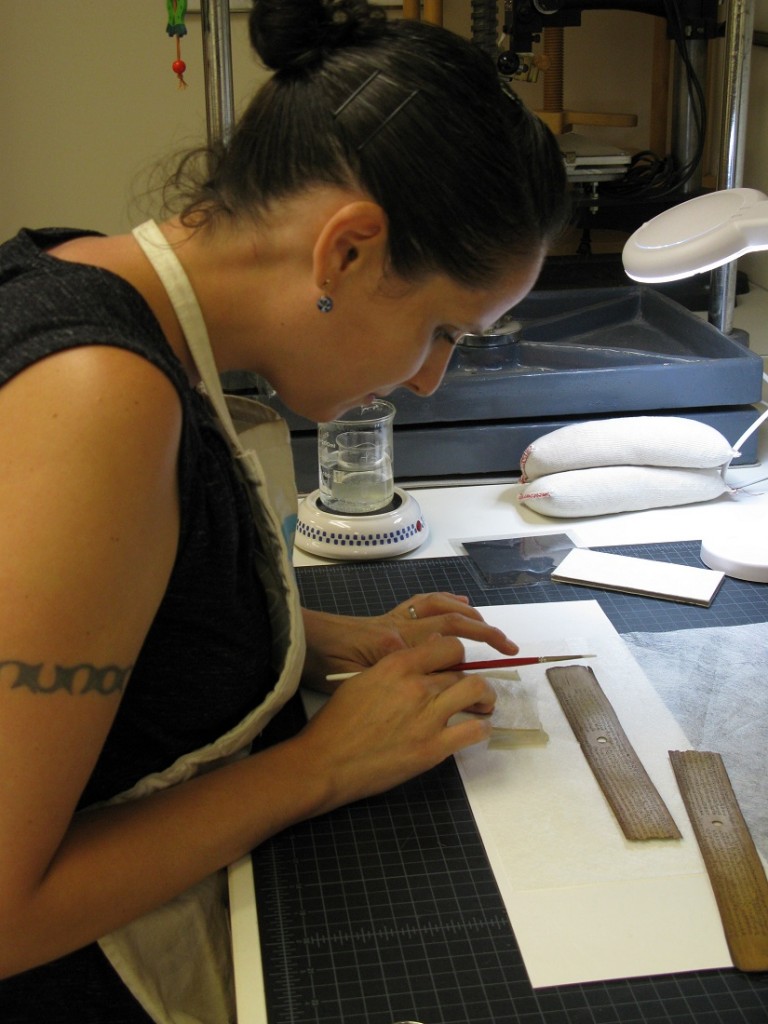 Angela hard at work in the conservation lab.
Click image to enlarge.
Where are you from?
My hometown is Belvidere, IL (the north central part of the state, near Rockford), but I came to Lawrence from New York City, where I'd lived for ten years. In between I lived in California, Philadelphia, and Madison, WI.
What does your job at Spencer entail?
I treat and preserve materials in Spencer's collections to ensure their availability to both present and future library patrons.
How did you come to work as a conservator?
As a graduate student in library school, I had a work-study job in my school's conservation lab. I had a background in studio art and book arts, and I realized that conservation was a field where my hand skills and my interest in library service could be combined.
What do you like most about being a conservator?
I greatly enjoy solving the unique problems presented by each treatment and project. Academic library collections are so diverse that every day is different and there is always something new to learn in the process of treating such varied materials.
What advice would you give to someone interested in becoming a conservator?
There are many types of conservators and different paths to a conservation career, but I'd suggest starting at the website of the American Institute for Conservation of Historic and Artistic Works (AIC), the national professional organization. There's a section called "Become a Conservator" that is a great starting point.
What piece of advice would you offer a researcher walking into Spencer Research Library for the first time?
Just ask! The staff at Spencer are so friendly and will be happy to help you discover Spencer's collections.
Angela M. Andres
Assistant Conservator for Special Collections
Tags: About Us, Angela Andres, Behind the Scenes, Careers in Libraries, Conservation Services, Meet the Staff