King of the Wild Frontier
Today marks the 179th anniversary of the Battle of the Alamo. Spencer Research Library is home to a small collection about the Alamo's most famous defender: frontiersman and former Tennessee Congressman David Crockett (1786-1836).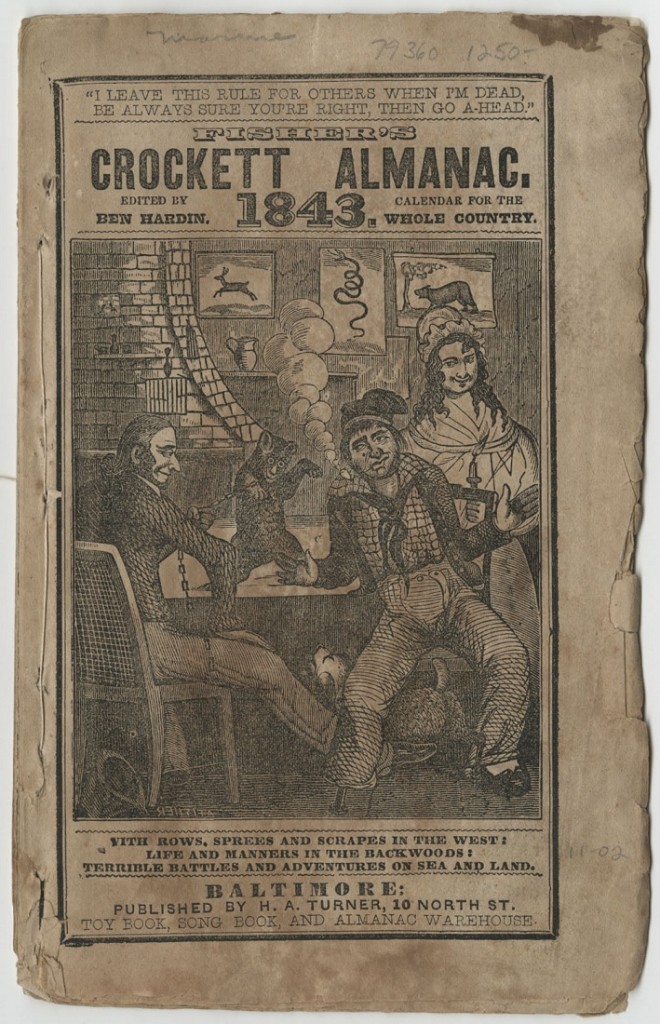 The cover of Fisher's Crockett Almanac, 1843.
Call Number: B10218. Click image to enlarge.
The items I find most interesting are the Crockett Almanacs. At least forty-five were published by various firms over a twenty-year period beginning in 1835, the year that Crockett lost his Congressional seat and famously told his constituents that "since you have chosen to elect a man with a timber toe to succeed me, you may all go to hell and I will go to Texas." Shown here are selected pages from the 1843 edition of Fisher's Crockett Almanac.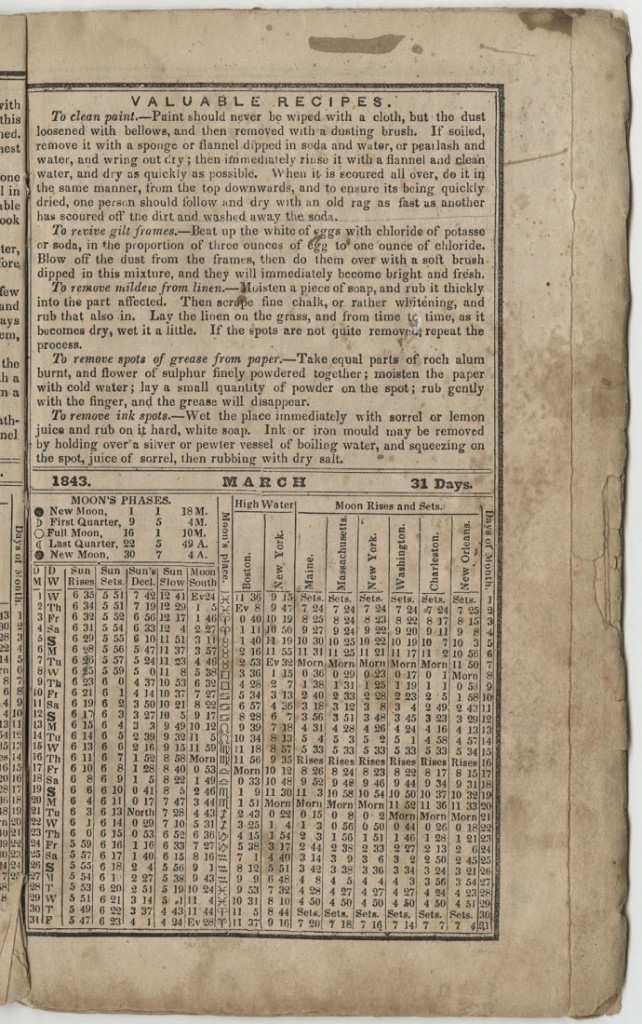 "Valuable Recipes" and the March calendar in
Fisher's Crockett Almanac, 1843. This information might
come in handy if you have, say, mildewy linen or
tarnished gilt frames. Call Number: B10218. Click image to enlarge.
The Crockett almanacs contained some of the same information found in other early American almanacs, including calendars, sunrise and sunset times, astronomical data, and important dates, historical anniversaries, and holidays. Primarily, however, the almanacs focused on a comical, exaggerated version of Crockett, drawing and expanding upon popular books and plays that had already been written by and about him. As historian Paul Andrew Hutton explained in an article about the almanacs, they were filled with a cast of peculiar and outlandish characters; folk wisdom; tall hunting tales based on the "celebrated hunting skills of the real Crockett" (16); and stories of "daring escapes from wild beasts, descriptions of animals, and dialect humor" that the real Crockett was masterful at telling (15).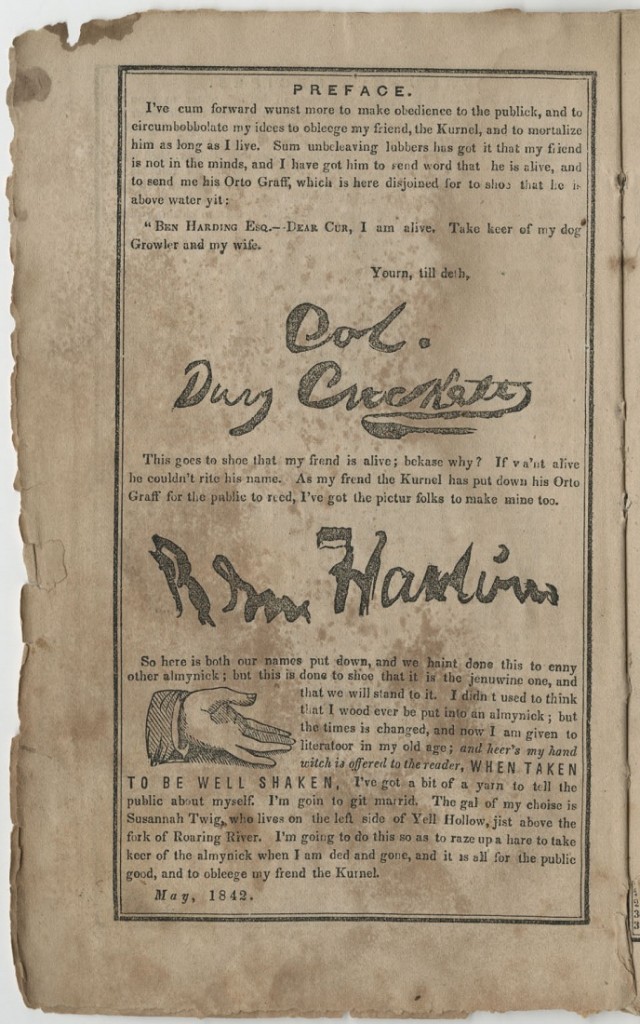 Fictional Ben Hardin was introduced to readers as an old sailor who
met Davy Crockett and "decided to devote himself to the continuation
of his friend's almanacs" (Hutton 15). Beginning in 1841, the almanacs
were also based on the myth that Crockett had survived the
Battle of the Alamo and was a prisoner in Mexico forced to work
in the mines. Fisher's Crockett Almanac, preface, 1843.
Call Number: B10218. Click image to enlarge.
Selected stories from Fisher's Crockett Almanac, 1843.
Call Number: B10218. Click image to enlarge.
Taken together, writes Hutton, the almanacs created a fictional version of David Crockett in which he was "a tall-tale trickster with the strength of Hercules, the valor of Lancelot, the veracity of Baron Munchausen, and the wit of Brer Rabbit. This comic superman insured Crockett a rare immortality, enshrined the humor of the Old Southwest in print, provided an eventually triumphant rival to the romantic, class-conscious frontier hero of James Fenimore Cooper, and further defined the emerging American national character" (10).
In short, writes Hutton,
A celebrity in his own time, Crockett was elevated to near-mythical status by his heroic death at the Alamo in 1836. Rediscovered in the middle of the twentieth century, he again became a towering figure of American popular culture. He had courted fame while alive, and unlike Daniel Boone – whose mantle as America's great frontier hero he inherited – he had taken an active role in the creation of his own overblown legend. His story, however, quickly became the property of others. They greatly embellished the core of truth he had projected to create the archetypical backwoodsman and Jacksonian self-made man who captured the imagination of the world. None were more important important in this heroic evolution than the imaginative creators of the wildly popular Crockett almanacs (10).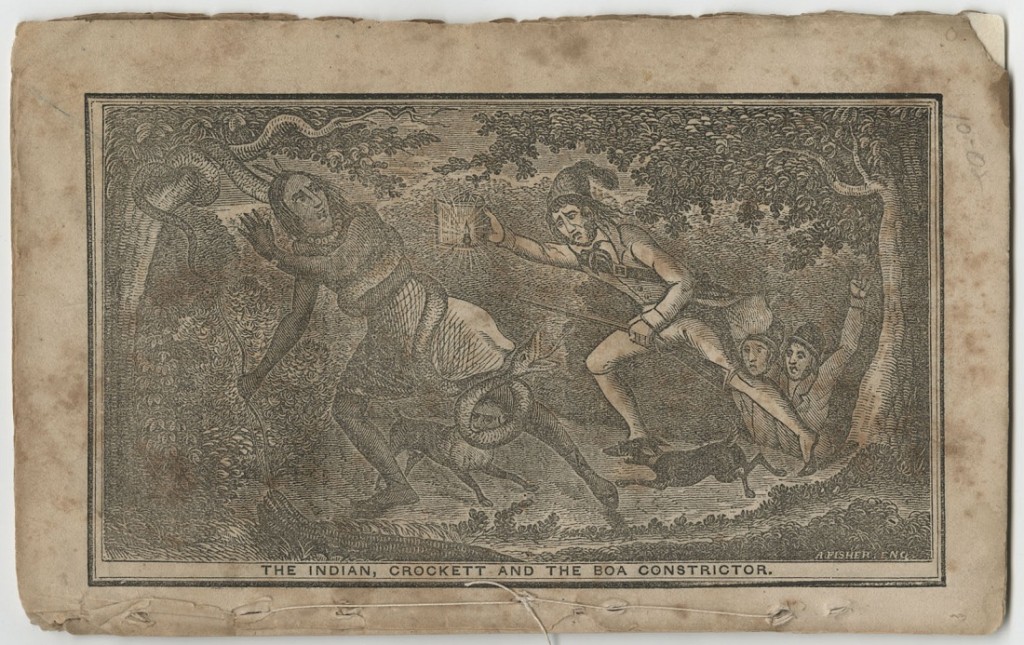 Fisher's Crockett Almanac, back cover, 1843. Call Number: B10218. Click image to enlarge.
Want to know more about David/Davy Crockett? Check out these sources at Spencer and Watson libraries.
The Life and Adventures of Colonel David Crockett, of West Tennessee (1833): This anonymously-published work has been attributed to Matthew St. Clair Clarke and copyright holder James S. French. Hugely popular, it was republished under the title Sketches and Eccentricities of Col. David Crockett, of West Tennessee (1833).
An Account of Col. Crockett's Tour to the North and Down East (1835): Increasingly displeased seeing others prosper from writing about – and in some cases caricaturing – him and seeking a way to pay off his debts, Crockett wrote his autobiography, published as A Narrative of the Life of David Crockett, of the State of Tennessee (1834). He promoted the work during the grand tour described in this book. It was written by friend and fellow Congressman William Clark based on newspaper accounts, other documents, and notes provided by Crockett.
The Life of Martin Van Buren, Heir-Apparent to the "Government," and the Appointed Successor of General Andrew Jackson (sixteenth edition, 1837): This bitterly partisan work reflected Crockett's virulent opposition to Jackson and Van Buren. He lent his name to the title page of this book, although it was written by Augustin Clayton. The publisher was so nervous about being sued for libel that the firm left its name off the title page of the first edition.
Col. Crockett's Exploits and Adventures in Texas (1837): This is a work of mostly fiction by Richard Penn Smith masquerading as fact, allegedly based on Crockett's own diary, a document that does not exist.
The Crockett Almanac (1839, 1840, 1841)
Ben Hardin's Crockett Almanac (1842)
Three Roads to the Alamo: The Lives and Fortunes of David Crockett, James Bowie, and William Barret Travis by William C. Davis (1998)
Reference
Hutton, Paul Andrew. "'Going to Congress and making allmynacks is my trade': Davy Crockett, His Almanacs, and the Evolution of a Frontier Legend." Journal of the West 37:2 (April 1998): 10-22.
Note
I previously wrote about the Crockett Almanacs for the blog of the Daughters of the Republic of Texas Library at the Alamo.
Caitlin Donnelly
Head of Public Services
Tags: Alamo, Almanacs, Caitlin Donnelly, Crockett Almanacs, David Crockett