Item Feature: La Sfera, A 15th Century Schoolbook
La Sfera, a 15th-century schoolbook, opens with basic concepts of cosmography and geography and ends with an itinerary of seaports of the southern Mediterranean and Black Seas. This manuscript poem in Italian is illustrated with astronomical and geographical diagrams, a drawing of the Tower of Babel, and miniature extracts from sea charts showing the coasts described.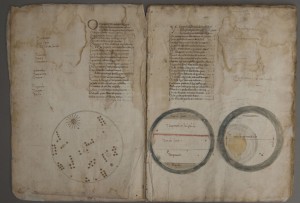 Fig. 1. Diagrams showing celestial bodies and the division of the Earth into zones according to classical tradition appear near the beginning of La Sfera (ff.2v-3r). Special Collections, call number Pryce MS P4. Click image to enlarge.
Portolan charts, a type of sea chart that originated in the Mediterranean and was used in navigation from circa 1300 until the late 1600s, formed the model for the map illustrations in La Sfera.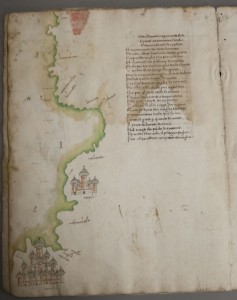 Fig. 2. The portolan-style map illustrations exaggerate the shape of the seacoast and emphasize coastal place names and major cities (here Tripoli and Tunis), as well as giving approximate distances (f. 21v). Special Collections, call number Pryce MS P4. Click image to enlarge.
Some have attributed its authorship to Leonardo Dati (1362-1425), but, as a leader of the Dominican order, he was unlikely to have written a textbook in Italian. Boys destined for the law and Holy Orders were taught in Latin, while education for commercial careers took place in vernacular lay schools.
Figs. 3a-b. The text and place names are in Italian. The pen-and-ink drawings of mountains, water features, and the cities of Damascus and Jerusalem have been colored with watercolor washes (f. 22v). Left: overall view, right: detail of Jerusalem. Special Collections, call number Pryce MS P4. Click images to enlarge.
The confusion about authorship arose, because La Sfera's author was Leonardo's elder brother, Gregorio (Goro) Dati (1362-1435), a Florentine silk merchant whose 20 children (by a succession of four wives) doubtless provided the inspiration for writing La Sfera. The survival of more than 150 manuscript copies and several printed editions from the 15th and 16th centuries attests to La Sfera's popularity. Goro Dati knew the Mediterranean Sea firsthand from trading voyages on merchant vessels, but he left La Sfera's circuit of the Mediterranean coasts unfinished, perhaps because he died while writing it. In 1514 Giovanni Maria Tolosani completed and published the itinerary as a printed book.
La Sfera is written in ottava rima, a form of poetry employing stanzas of eight lines. It belongs to an Italian tradition of vernacular geographical poetry, known as geografie metriche. A later example was Francesco Berlingieri's publication in 1482 of Geographia of the ancient Greek geographer, Claudius Ptolemy, re-written in Italian verse. Also dating from the 1480s were Bartolomeo dalli Sonetti (Zamberti)'s sonnets in Venetian dialect about the Greek islands. The ease of memorizing poetry may account for its use in textbooks published elsewhere in 16th-century Europe, such as the 2nd edition Johannes Honter's Rudimenta Cosmographia published in Latin verse in Kronstadt (now Brasnow, Romania). Based on its script and paper watermarks, Kenneth Spencer Research Library's manuscript copy dates from circa 1450. As well as annotations, the dirty outer leaves, stains left by spilled liquid, and the remains of a snakeskin used as a bookmark attest to its use.
Figs. 4a-b. The leaves in this opening have added marginal notes and a passage marked by a pointing finger (ff. 10v-11r). Left: overall view, right: detail of pointing finger. Special Collections, call number Pryce MS P4. Click images to enlarge.
This manuscript was probably used first as a textbook, without a cover, and later bound in a codex with other texts, from which it had been separated before its acquisition in 1966.
Karen Severud Cook
Special Collections Librarian
Tags: cosmography, geografie metriche, geography, Goro Dati, Gregorio Dati, Karen S. Cook, La Sfera, Leonardo Dati, map, ottava rima, portolan chart