Folded and Sewn: A Bookbinding Workshop
Staff and students from Conservation Services recently led a workshop for the College of Liberal Arts and Sciences Mini College program, in which individuals attend a week of lectures, classes, and events on the KU campus. This year we led a group of 21 eager students in our workshop, "Folded and Sewn."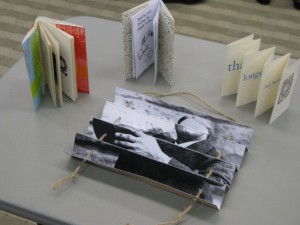 Clockwise from upper left: sewn pamphlet, stapled pamphlet, accordion book,
Venetian blind book. Click images to enlarge.
The students in this workshop made four simple structures that were created with folding and sewing–no adhesives required. We started with an accordion book, then made a Venetian blind structure that featured a picture of James Naismith on one side and the windows of Watson Library on the other. Next we moved to folded pamphlets: first a stapled one with text about caring for books, and finished with a sewn version featuring images of historic Jayhawks (courtesy of the University Archives).
Kyle Sederstom, Roberta Woodrick, and Whitney Baker, staff of Conservation Services, took turns leading the class. Step-by-step images were also projected on an overhead screen. In addition, we enlisted three conservation student assistants and our summer conservation intern to roam the room and help participants as needed.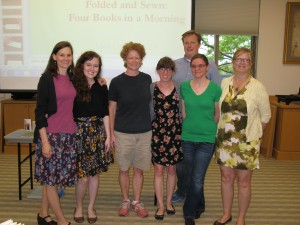 Conservation Services staff and students who led the Mini College workshop.
The Mini College participants finished the structures in record time! We had provided two copies of each structure, so there was time for students to review and make a second book. Other students perused examples of pamphlets and accordion structures provided on a front table.
The workshop featured a leader for each bookbinding structure, as well as projected images of each step.
We had a wonderful time hosting this workshop and hope to offer it again in the future.
Whitney Baker
Head, Conservation Services
Tags: Bookbinding, Conservation Services, Mini College, Whitney Baker