El álbum costarricense: una incertidumbre que queremos resolver/ A Costa Rican Photograph Album: Help Us Solve the Mystery
El álbum de fotografía costarricense, MS K35, que se presenta en este blog, es uno de los tantos documentos valiosos que el profesor emérito, Charles L. Stansifer, donó a Kenneth Spencer Research Library hace algunos años. Siendo parte del archivo y de la colección latinoamericana, el álbum acopia un valor doble. Por una parte, es un registro que ofrece evidencia histórica de Costa Rica y por otra, es un documento que identifica al país centroamericano como productor de fotografía y fotoperiodismo desde principios del siglo XX.
Sin embargo, hasta el momento no se tiene la certeza de quién es el personaje central de esta serie de fotografías. Si bien el álbum se compone de dieciséis imágenes que narran la ceremonia fúnebre de algún representante político, no hay evidencia directa que responda al quién pertenecen. Gracias a la presencia militar (imágenes 1 y 2), sobre todo a un pequeño escrito en el que se lee "Bot in lib El Erial Oct 1980. Reported to be pictures of funeral of Federico Tinoco 1919," se tomó como un hecho que las fotografías documentan el funeral de Federico Tinoco Granados, presidente de Costa Rica entre 1917-1919. Si bien el final de la presidencia de Federico Tinoco se da junto a la muerte de su hermano, José Joaquín Tinoco Granados quien fue asesinado el 10 de agosto de 1919, su muerte sucede durante su exilio, en Paris. Así mismo, es a través de la fotografía #25992 (imagen 3) que se puede cuestionar si realmente lo que presenciamos como espectadores es el funeral de alguno de los Tinoco.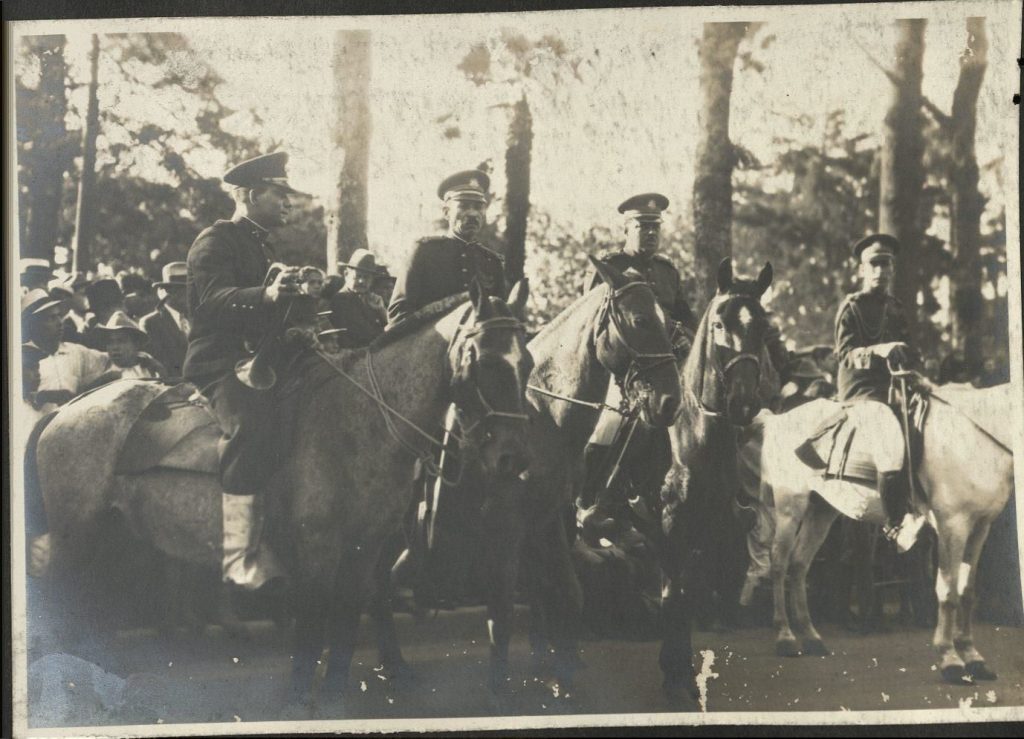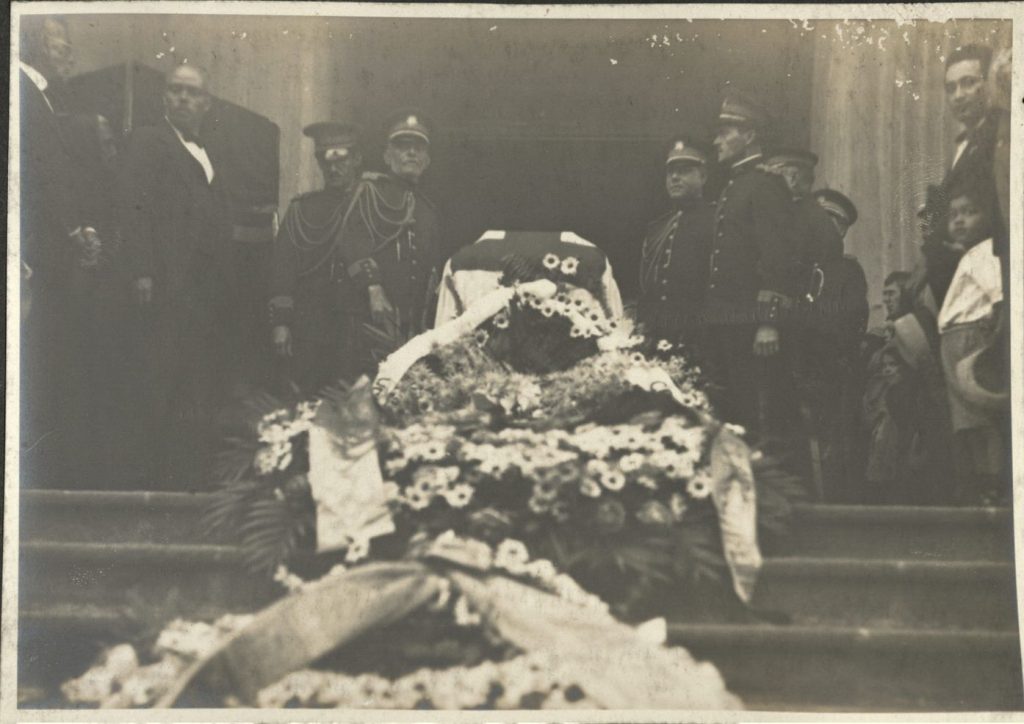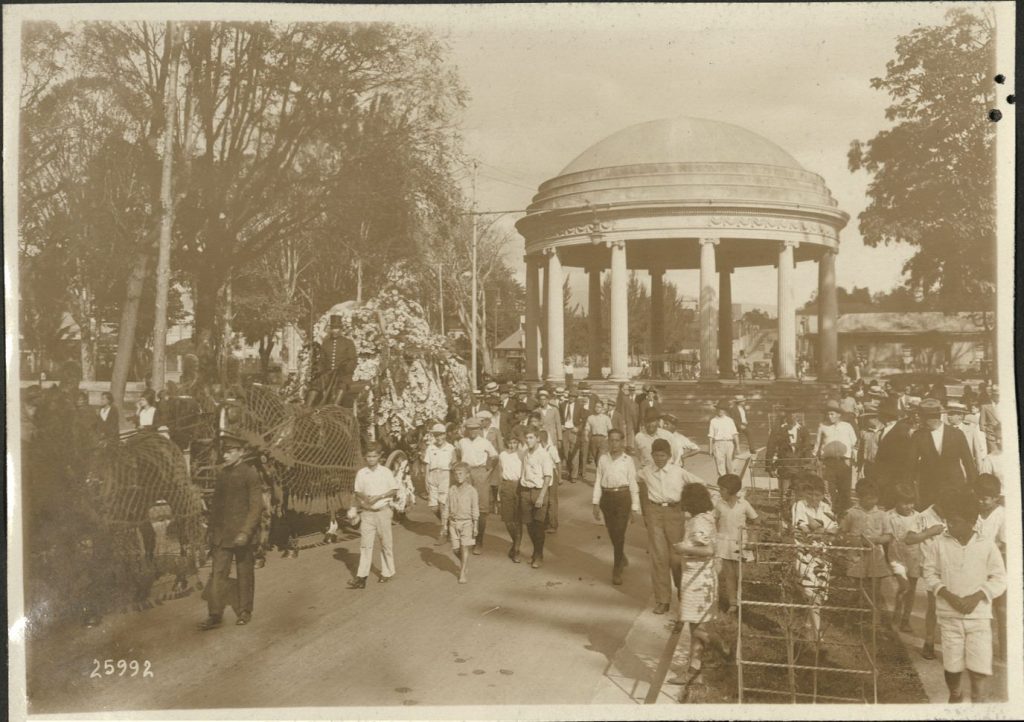 En tal imagen se puede apreciar el Templo de la Música, inaugurado el 24 de diciembre de 1920, un año después del asesinato. Por otro lado, en otra de las fotografías (ver imagen 4) se puede apreciar que lo que cubre el féretro del sujeto en cuestión es la bandera representante de la cruz roja. A través de estos hechos y de revisar la historia se puede suponer que el celebrado es o Francisco Aguilar Barquero, que murió en octubre de 1924, o Juan Bautista Quirós Segura, fallecido en noviembre de 1934. Tanto Aguilar Barquero como Quirós Segura fueron presidentes provisionales después del golpe militar que terminó con la presidencia de Tinoco. Cabe también la posibilidad de que se trate de Ramón Bernardo Soto Alfaro quien en 1885 fue presidente provisional de Costa Rica, mismo año en el que ante la amenaza de guerra tuvo que fundarse la Cruz Roja Costarricense.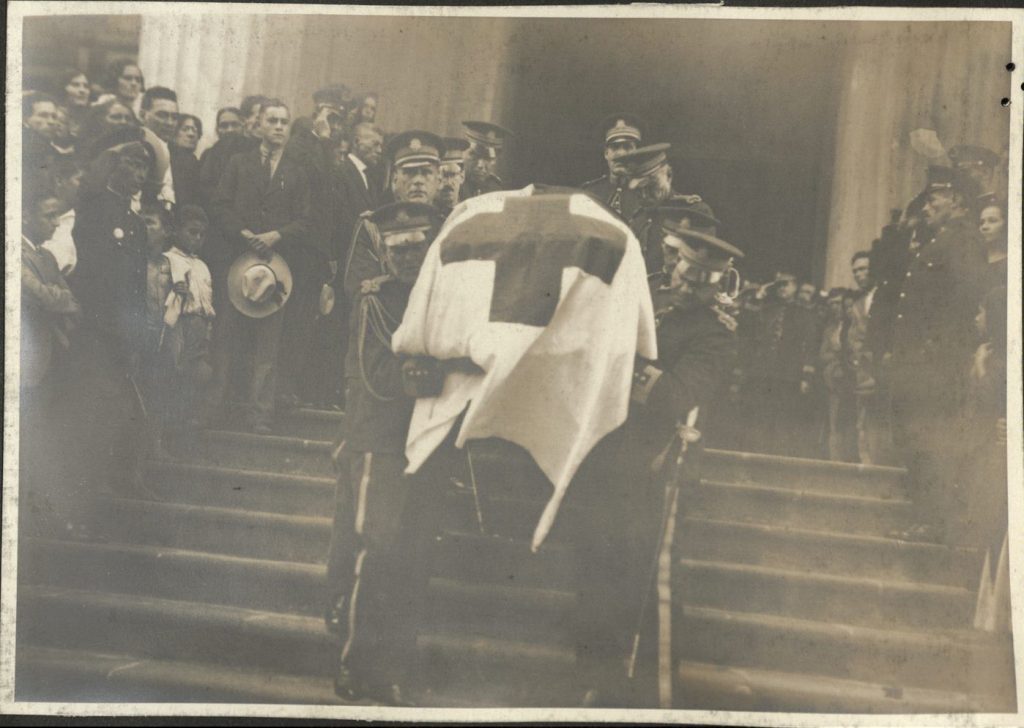 Al prestar atención a la arquitectura que aparece en la mayoría de las fotografías, se llega también a la conclusión de que el funeral puede tratarse de Manuel María de Peralta y Alfaro quien muere en agosto de 1930. Don Manuel es un importante personaje diplomático que, aunque fallece en París, su cuerpo fue trasladado a San José de Costa Rica para ser sepultado. Se dice que la ceremonia fúnebre tomó lugar en la Catedral Metropolitana, la cual podemos observar en siete de las imágenes (ver imágenes 5 y 6).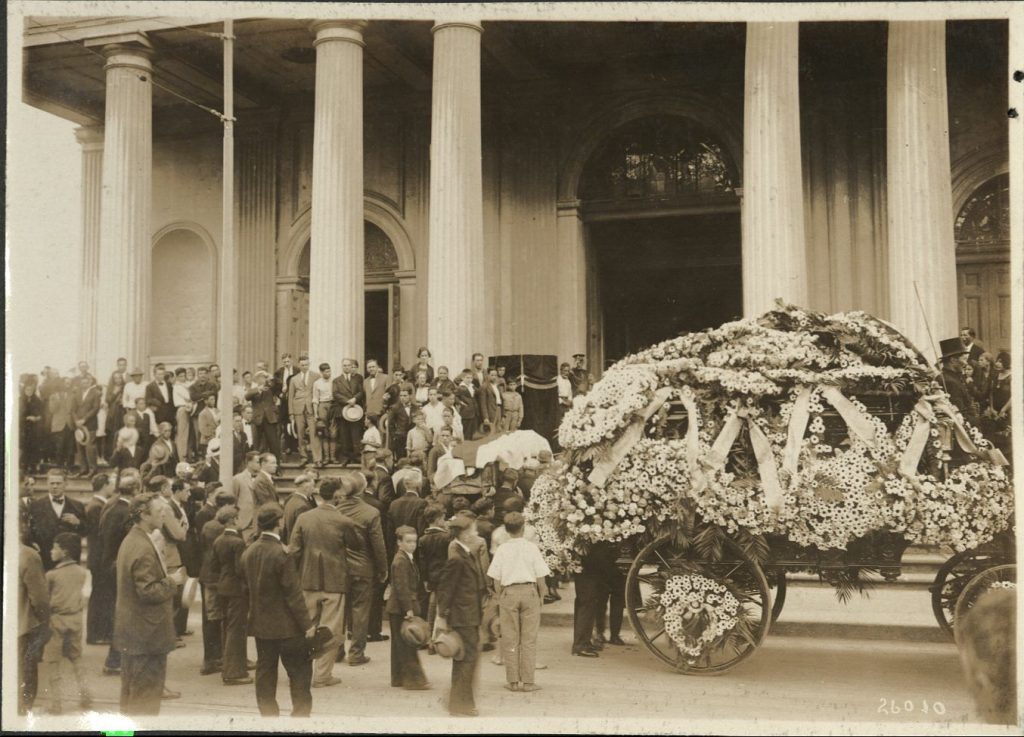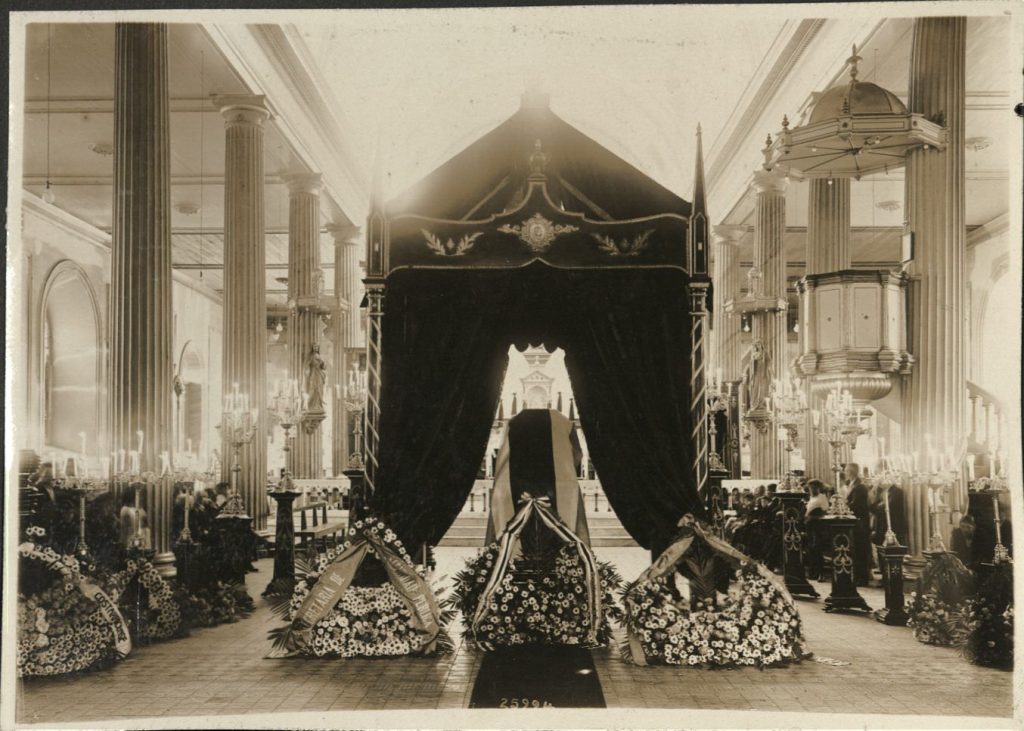 A pesar de desconocer para quién es la ceremonia, se sabe con certeza que las fotografías fueron tomadas por algún miembro del estudio de Manuel Gómez Miralles; si no es que por el mismo Miralles, considerado padre del fotoperiodismo costarricense. Además, Gómez Miralles fue uno de los fotógrafos encargados de fotografiar la vida política en Costa Rica y que utiliza la fotografía para dar a conocer la riqueza natural de su país.
Por estas razones, el álbum que hoy le pertenece a esta biblioteca, gracias al profesor emérito Stansifer, tiene un valor histórico y estético para los investigadores interesados en el país de Costa Rica. La riqueza histórica, política y artística no puede quedar paralizada por las incertidumbres que todavía permanecen. El álbum costarricense está disponible en la biblioteca Kenneth Spencer y esperando que algún investigador, al reconocer la arquitectura y alguno de los retratos más visibles (imagen 7), nos proporcione información relevante.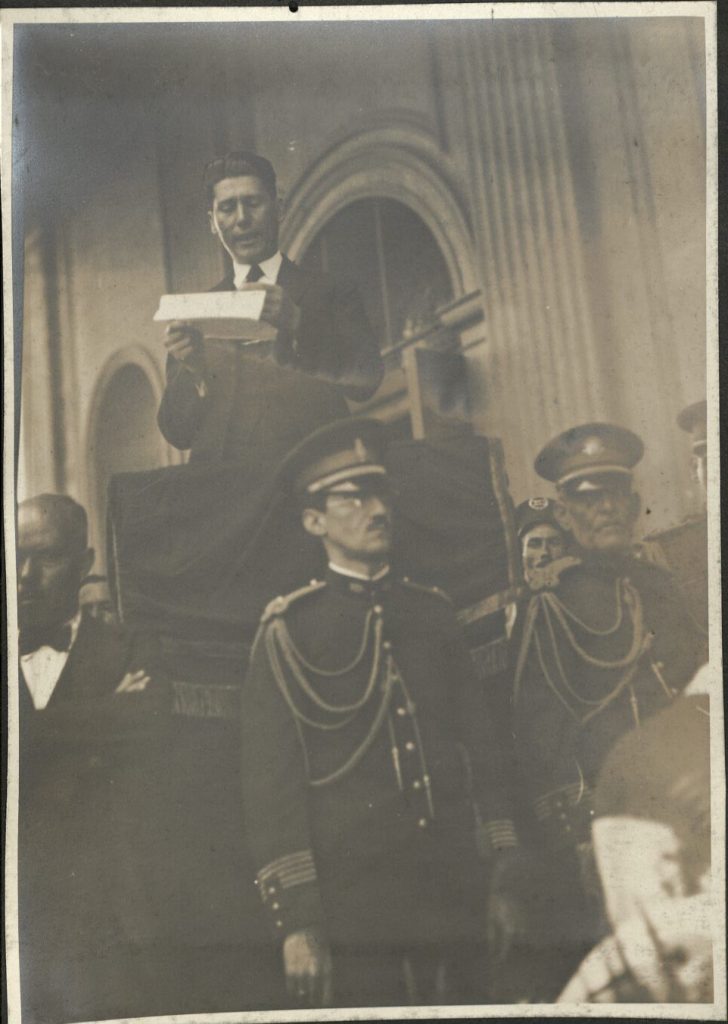 The Costa Rican photo album, MS K35, featured in this current blog post, represents one of the many valuable documents that Emeritus Professor Charles L. Stansifer donated some years ago to the Kenneth Spencer Research Library. The photo album is housed among the library and archival material and is part of the Latin-American collections. The album has a double value: it offers historic evidence of Costa Rica and, simultaneously, offers insight into Costa Rican documentary photography and photojournalism in the early twentieth century.
Nevertheless, we are unsure of the identity of the central individual in the photographic series. The album contains sixteen photographs that record the funeral of a politician, but we are lacking precise information to identify the deceased. The military scenes in the album (images 1-2) and the presence of a small piece of paper inserted inside the album stating, "Bot in lib El Erial Oct 1980. Reported to be pictures of funeral of Federico Tinoco 1919," led us to consider that the series documents the funeral of Federico Tinoco Granados, president of Costa Rica from 1917-1919. However, if we look closer at the images, especially at image 3, we realize that the funeral took place after the end of his presidency and that the funeral can be neither Tinoco's nor that of his brother José Joaquin Tinoco Granados, who was murdered on August 10, 1919. The Templo de la Música, which opened on December 24, 1920, and which clearly appears in that image, eliminates José Tinoco Granados as a possibility. It is true that former president Federico Tinoco Granados died in 1931, years after the construction and opening of the Templo de la Música, but he passed away in Paris when he was in exile and his body wasn't returned to Costa Rica until 1960. In addition to the facts presented by architectural and historical details, we see in another photograph that a Red Cross flag covers the coffin (image 4).
Other prospects include Francisco Aguilar Barquero, who passed away in October 1924, or Juan Bautista Quirós Segura, who perished in November 1934. Both Aguilar Barquero and Quirós Segura assumed the Costa Rican provisional presidency after Tinoco´s resignation and exile following his brother's assassination. Another candidate is Ramón Bernardo Soto Alfaro, who was president of Costa Rica in 1885, the same year in which the Costa Rican Red Cross was established. Soto Alfaro died in January 1931. Given that the majority of the photographs display a particular architecture from the early 20th century, it is also plausible that the funeral might be for Manuel María de Peralta y Alfaro, who died in August 1930. Don Manuel was an important diplomat who died in Paris, and whose body was transported to San José, Costa Rica, for burial. The funeral was conducted in the Catedral Metropolitana (images 5-6), a building that can be seen in seven of the photographs.
Despite our uncertainty about whose funeral is pictured, we know that the series of photographs was taken by a member of Manuel Gómez Miralles's studio, if not Gómez Miralles himself. Gómez Miralles is considered the founder of Costa Rican photojournalism, and was committed to photographing Costa Rican political life and the natural beauty of his home country. 
Our discoveries to date confirm that the album, held in Kenneth Spencer Research Library thanks to the generosity of Emeritus Professor Stansifer, has historic and artistic significance for researchers interested in studying Costa Rica. We hope that readers of this blog post will recognize architectural clues or individuals featured in the photographs (image 7) to help us uncover new and relevant information, including the identity of the funeral's central individual.
Indira García Varela
Student Assistant
Spanish- and Portguese-Language Materials Preservation Project

Tags: Ceremonia funebre, Charles Stansifer, Costa Rica, fotografia, Funeral, Indira Garcia Varela, Manuel Gómez Miralles, Photograph album, photographs