Collection Feature: Daniel Vanderslice Collection
The Daniel Vanderslice collection from the Kansas Collection was recently treated in the Stannard Conservation Laboratory. Every item in the collection was thoroughly surveyed, and select papers underwent treatments such as tear mending, tape removal, and humidification and flattening.
Daniel Vanderslice led a colorful and varied life. Born in Pennsylvania in 1799, he was apprenticed in 1820 as a papermaker in Chester County, PA. In 1822, he joined an expedition in the lead mines in northwestern Illinois, but by 1825 had moved to Kentucky and eventually became a partner in the Great Crossings paper mill with General William Johnson, nephew of U.S. Vice President Richard Johnson. Mr. Vanderslice was a trusted town leader, serving as postmaster and owner of the Kentucky Sentinel in Georgetown, KY. His ardent work in the Democratic party and perhaps friendship with the Johnsons led to his appointment as special agent for the removal of Chickasaws in 1837 from Memphis to Fort Coffee, in present-day Oklahoma.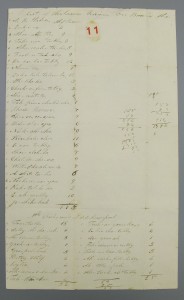 List of Chickasaw Indians on the S.B. Itasca and the S.B. Liverpool. Kansas Collection, call number RH MS 136.1.7. Click image to enlarge.
Between 1853 and 1861, he was appointed by President Franklin Pierce as General Agent for the Great Nemaha Indian Agency that managed the activities of the Chickasaw, Iowa, Sac and Fox, and Kickapoo tribes. The collection includes administrative papers relating to these tasks.
Left: Pay Roll, Sac and Foxes of Missouri, April 1861, RH MS 136.4.12. Right: Plans for school house and teacher's dwelling to be erected on the Iowa Reservation, 1860, RH MS 136.4.9b. Kansas Collection. Click images to enlarge.
A supporter of the Democratic Party, Mr. Vanderslice was a member of the Lecompton Constitutional Convention that in 1857 penned a document with aims to allow legal slave holding in Kansas when it became a state. Both the U.S. House of Representatives and Kansas voters later rejected the proposed constitution, and Kansas entered the Union as a free state on January 29, 1861.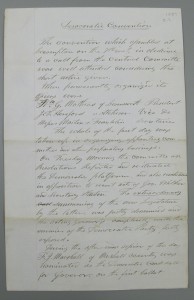 Document titled, "Democratic Convention," 1857, RH MS 136.3.1. Click image to enlarge.
Whitney Baker
Head, Conservation Services
Tags: Chickasaw, Daniel Vanderslice, Great Nemaha Indian Agency, Iowa, Kickapoo, Lecompton Constitutional Convention, Sac and Fox, Whitney Baker