Boxed In
Conservation Services students and staff have housed a wide variety of objects from the University Archives in the past few years. Each object presents its own challenges, but we try to keep a few things in mind: 1) It must be easy for a patron to remove the object safely from the box, 2) any paperwork that accompanies the object should be stored in a pocket in the box lid, and 3) a color image of the item should be affixed to the outside of the box to aid staff in locating the correct item without having to open every box.
Please enjoy a few of our favorite recent housings.
Left: Metal Jayhawk broken at neck, housed in original orientation with support for the broken area.
Right: Ceramic Jayhawk whiskey bottle. Call numbers: 0/25. University Archives. Click images to enlarge.
Left: Chancellor Snow's pocket watch with winding key. Call number: 2/6/6.
Right: Professor L.L. Dyche's compass and measuring tape. Call number: 41/0. University Archives. Click images to enlarge.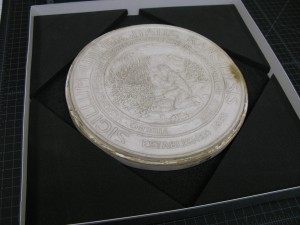 Seal of the University of Kansas. Call number: 0/30. University Archives. Click image to enlarge.
Whitney Baker
Head, Conservation Services
Tags: Jayhawk, Seal; University of Kansas, Snow; Dyche; Burzle; object; housing, Whitney Baker