Spencer Library Guest Book
Many visitors to Spencer Research Library walk straight into the Marilyn Stokstad Reading room, a classroom, or the exhibit space, bypassing the elegant furnishings of the Spencer Lounge and missing completely the large and imposing ledger nestled in an 18th century secretary desk on the north wall. This book has served as the library's guest book since the opening of the building in 1968.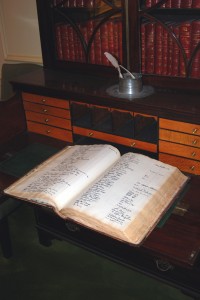 Spencer Library guest book, located in the Spencer Lounge. Click image to enlarge.
Researchers who come to use the collections at the Spencer Library now use our Aeon system to register and make requests, and before that, a number of different paper forms recorded names, addresses, and call numbers. So the guest book was never an official document required for using the collection, but instead a ceremonial record of visitors.
The first page, with beautiful calligraphy attributed  to librarian Jim Helyar, marked the building's opening on November 15th, 1968. Entries continue through 1974, when it was set aside from daily use. After a few blank pages, names, messages, and the occasional doodle resume, coinciding with its "rediscovery" and reinstatement in 2002.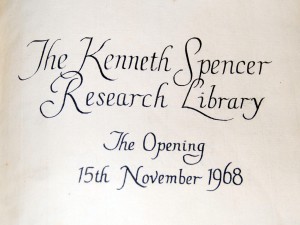 Guest book calligraphy on the first page. Click image to enlarge.
The first entries were clearly in pen, probably the same pen used throughout the opening celebration.  At least since 2009, and probably earlier, an iconic green "Spencer pencil" has sat aside it, although many guests do sign in (presumably their own) pen. We are in the process of ordering some pigment based pens to place conveniently at hand so that the inscriptions will endure as part of the history of the building.
Examples of guest signatures, including "Jesus Christ" (L) and an enthusiastic video gamer (R).
Click images to enlarge.
Like so many things in this inspiring building, the guest book is humbling. Distinguished visitors, scholars, and schoolchildren have walked through this place and left their mark. The pages are filling up again, and I hope to be able to place another, equally impressive volume, in its place. I began this project thinking I would highlight some of the most interesting entries. I was charmed by the young child from "SUMSET HILL" [sic] and intrigued by non-Roman scripts I could not even identify. I wondered what would motivate a person to draw a big heart around their name in such a formal setting, and I spent a lot of time looking for the name "Don Johnson," who allegedly signed the book during his days as a student here at KU. In the end, although I could not pick a favorite, I spent much time leafing through the pages and I encourage you to do the same the next time you visit the library.
Beth M. Whittaker
Assistant Dean of Distinctive Collections
Director, Kenneth Spencer Research Library
Tags: Beth M. Whittaker, Guest book, Jim Helyar, Kenneth Spencer Research Library