Happy Birthday, Carl Linnaeus!
This week we celebrate the birthday of the great 18th century taxonomist Carolus Linnaeus, who was born on May 23rd, 1707. Spencer Library holds one of approximately thirty surviving copies of the first edition of Linnaeus' epoch-making Systema Naturae. Spencer's remarkably fine copy is housed in an ingenious binding (only half as wide as the paper, allowing the broadsheet book to be folded vertically for easy carrying). During his lifetime, Linnaeus published twelve editions of this monumental work. By 1766, when the twelfth edition was published, the taxonomic text had grown from the seven broadsheets of the first edition to 2,300 pages.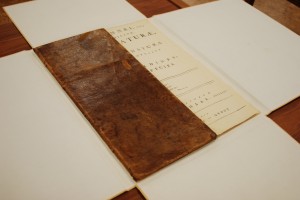 Carl von Linné, Systema naturae, 1735. Special Collections. Call number Pryce J2. Note the half binding, allowing the item to be folded for use. Click image to enlarge.
The Spencer Library Linnaeus collection includes nearly all of his major works in many editions, of which a hundred or more are first editions. Particularly notable are the various editions of the Systema Naturae; a complete set of the Linnaean dissertations in their first editions; a splendid copy of the Hortus Cliffortianus (1737); the first edition, first and second issues, of the Species plantarum (1753), the work in which Linnaeus first applied binomial nomenclature to botany; and the scarce first edition of Pehr Kalm's En Resa till Nora America (1753-1761). The collection also includes long runs of the journals published by the principal Linnaean societies, many biographical works, and early editions of works by Linnaeus' disciples and contemporaries.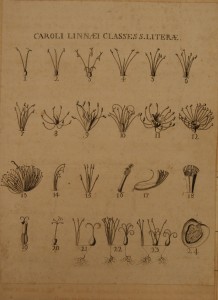 Detail from Carl von Linné, Systema naturae, 1735. Special Collections. Call number Pryce J2. Click image to enlarge.
Adapted From A Silver Anniversary: The First 25 Years of the Kenneth Spencer Research Library, Jim Helyar, editor (1994).
Whitney Baker
Head, Conservation Services
Tags: Carl Linnaeus, Carl von Linne, Systema Naturae, taxonomy, Whitney Baker