Calling All Bibliophiles: Enter the Snyder Book Collecting Contest!
Okay, so you didn't win 1.5 billion dollars in the recent Powerball drawing, but you still have the chance to turn your love of books into a nice little rainy day fund. This year KU Libraries is celebrating the 6oth anniversary of the Snyder Book Collecting Contest. To help mark this banner year, the contest will offer even larger prizes than usual.
Winners will be selected in both graduate and undergraduate divisions, with the following cash awards:
First Prize: $1000
Second Prize: $600
Honorable Mention: $300
Each winner will also receive a gift card in the following amounts from contest co-sponsor Jayhawk Ink, a division of KU Bookstore:
First Prize: $200
Second Prize: $100
Honorable Mention: $50
Start combing your shelves, though, since entries are due by 5 p.m. Friday, February 19, 2016. The winners will be announced at an awards ceremony on Thursday, April 14th, 2016.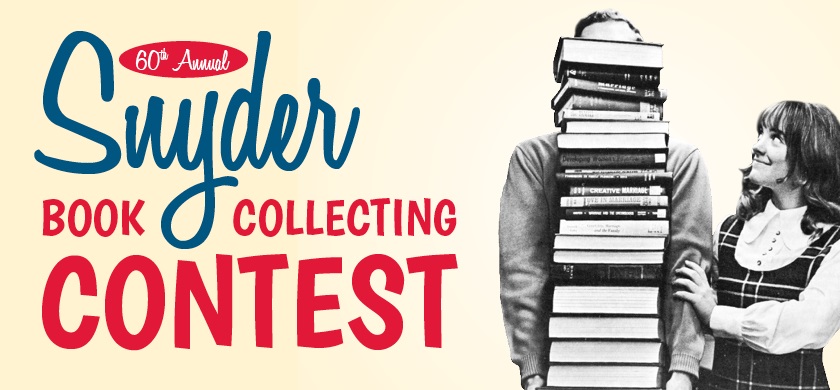 The contest was established by Elizabeth M. Snyder in 1957 to cultivate and recognize undergraduate and graduate students' interest in collecting books.
In recent years, the rules have expanded to include digital objects and non-print materials. You can learn more about the contest and how to enter by visiting https://lib.ku.edu/snyder/. There you'll also find a handy FAQ as well as selected essays, bibliographies, and a sample collection to help you on your way.
In need of further inspiration? Take a glance at some of the evocative titles of winning collections from the past fifteen years. What might you title your collection?
Clandestine Publications, by Resha S. Cardone, 1st place Graduate Division, 2002
Writing for No One: Zines and the Literature Underground,  by Joe Morgan, 1st place Undergraduate Division, 2004
On Being and Becoming a 'Total Woman:' Bestselling Books on Christian Marriage, 1972 to 1979, by Jennifer Heller, 1st place Graduate Division, 2004
Binding Times: Central American and Caribbean Literature Created in Crisis, by Erin S. Finzer, 1st place Graduate Division, 2005
Out of Season: Collecting Hemingway In Our Time as the Su[m] Also Rises, by Todd Giles, 1st place Graduate Division, 2007
The Mythology of Mozart, by Bailey Pike, 1st place Undergraduate Division, 20o8
High and Low: Commix, Art and Their Influence, by Thayer Bray, 1st place Undergraduate Division, 2009
Return With Us Now: The Rise of the Old Time Radio Hobby, by Ryan Ellett, 1st place Graduate Division, 2010
A Genre of One's Own: Constructing Science Fiction as a Space for Feminist Discourse, by Meagan Kane, 1st place Undergraduate Division, 2011

The Evolution of Scientific Knowledge: Vintage and Antique Textbooks of the Natural and Physical Sciences, by Laci Gerhart, 1st place Graduate Division, 2012
Language and Linguistics: How Words Changed My Life,  by Allie Alvis, 1st place Undergraduate Division, 2012
Discovering Hollywood's Mysteries: Juvenile Literature from Cinema's Golden Age, by Baiba Sedriks, 1st place Graduate Division, 2013
A Decade of Yarncraft, by Emma Fahrlander , 1st place Undergraduate Division, 2014
Southern Appalachia: Historic and Imagined, by Clarissa Nemeth, 1st place Graduate Division, 2015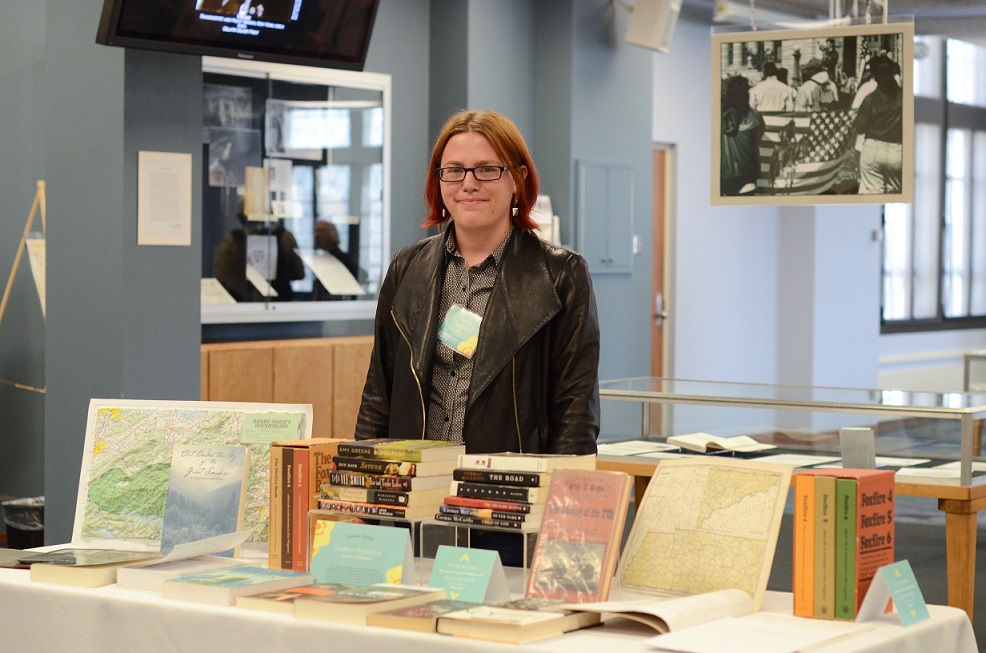 Clarissa Nemeth, with her collection "Southern Appalachia: Historic and Imagined."
Nemeth won first place in the Graduate Division in the 59th Annual Snyder Book Collecting Contest (2015)